One of the things that make us super excited for the summer especially to the kids is undoubtedly the rainbow. For its mesmerizing view of colors and emerging out of the clouds, a rainbow is one of the gorgeous natural views for sure. So here are these 14 DIY Rainbow Crafts – Easy Craft Ideas to let your all rainbow struck this summer. The crafts are so colorful and charming so surely going to prove to be mood up lifters. Also if you want to spend some quality time with your kids these rainbow crafts are perfect to work on together. These rainbow crafts are not only functional but full of lots of fun too so get your hands on them.
From rainbow fringe party backdrop to rainbow cupcakes and rainbow topper cakes you can enjoy a great theme of colors for your summer parties. Also, you can remodel so many of your things for the summer using rainbow colors just like that heart rainbow shirt, rainbow bracelet, rainbow pom pillow and more. To explore more of the beauty and charm of these rainbow ideas you can go through the list below. Each idea has its tutorial and detailed links attached.
You May Also Like:
Rainbow Party Fringe – Vertical Fringe Garland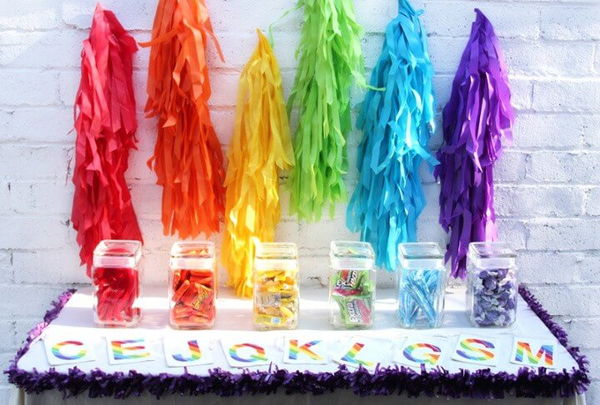 Rainbow is party fringe idea is all here to let you decorate your summer parties with pretty and bright hues. So get some rainbow hued tissue papers to cut out as the fringes and the staple them up in bundles of each color to vertically place on the walls. Details here
Tutorial: studiodiy
Colorful Rainbow DIY Crane Curtain: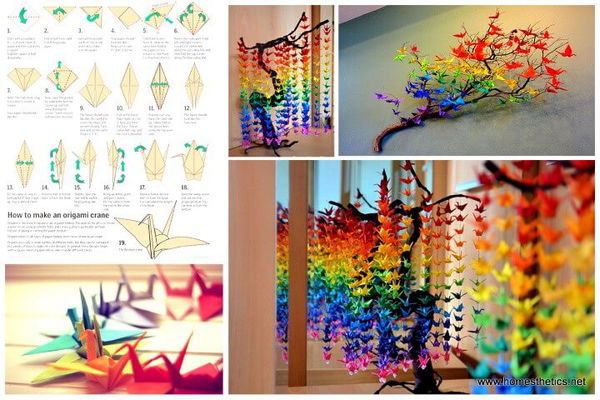 This stunning idea of colorful rainbow crane curtain is going to bring a huge charm and beauty to the home décor. Using paper in rainbow colors and working with the origami theme you can create this awesome looking crane curtain hanging on a big wooden branch. Follow up here!
Tutorial: homesthetics
DIY Rainbow Phone Holder: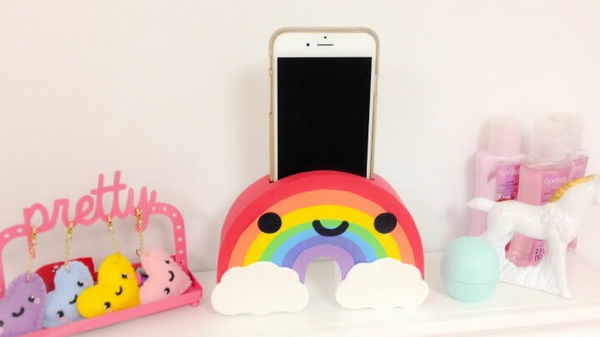 Make this super cute and adorable DIY rainbow phone holder and make your tables look just so pretty. Even if you are not holding your phone this rainbow would make a great décor piece for a table display. It needs cardboards, scrapbook papers and the regular crafty tools to work up at home.
Tutorial: youtube
Rainbow Heart Shirt: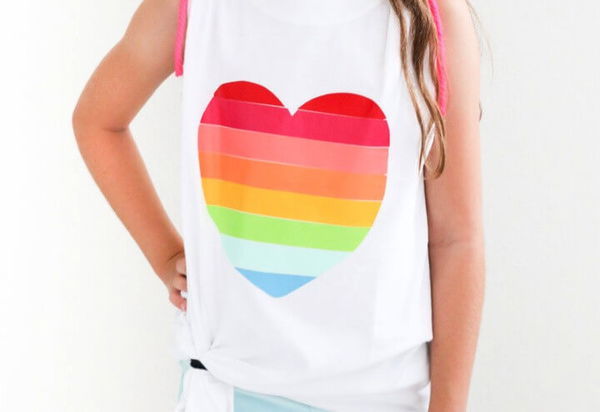 If you find your plaint white shirt boring and dull then load it with a pop up of colors with this project of rainbow heart shirt. This rainbow project is to do with the vinyl in rainbow hues so get the vinyl related tools and start working on it. You can create this heart on your tote bags too.
Tutorial: consumercrafts
Rainbow Lock Shaped Jade Charms Bracelet For Kids:
Anything cute and colorful can instantly brighten up the mood of your kids just like this rainbow jade charm bracelets. So get some translucent locks, jade beads, and the rainbow cords to shape up this super cute and quirky bracelet for your little ones. Tutorial here with easy steps!
Tutorial: instructables
Melted Crayon Pumpkin Craft: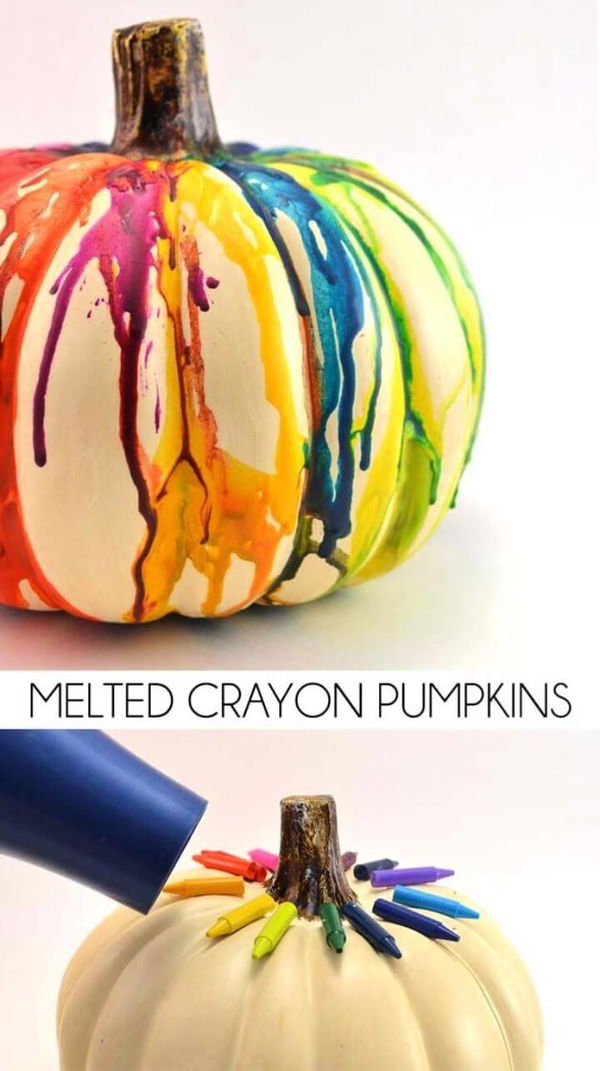 Here is another genius idea of creating a rainbow pumpkin craft for your holiday décor and it takes only a few pennies to work up. Just take rainbow-colored crayons and place them on the top of a white pumpkin. The melt the crayons with any feasible heat source and its ready to rock your décor once dry.
Tutorial: dreamalittlebigger
Candy Licorice Rainbow Party Favors: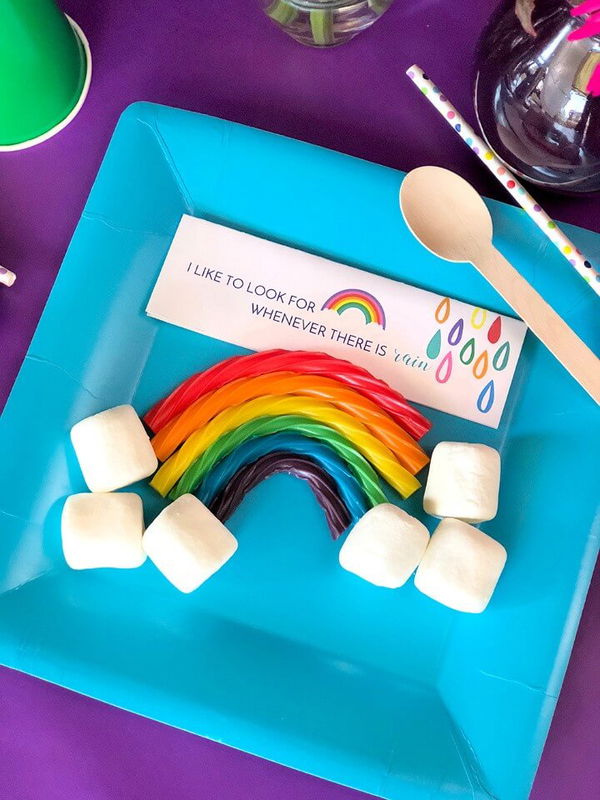 Kids love licorice and the marshmallow and now they are going to drool over these candy licorice rainbow party favors. So get the licorice in rainbow colors and pair them up with the white marshmallow and pack your favors for the kids. Details here!
Tutorial: partieswithacause
Cute Rainbow Cake Topper: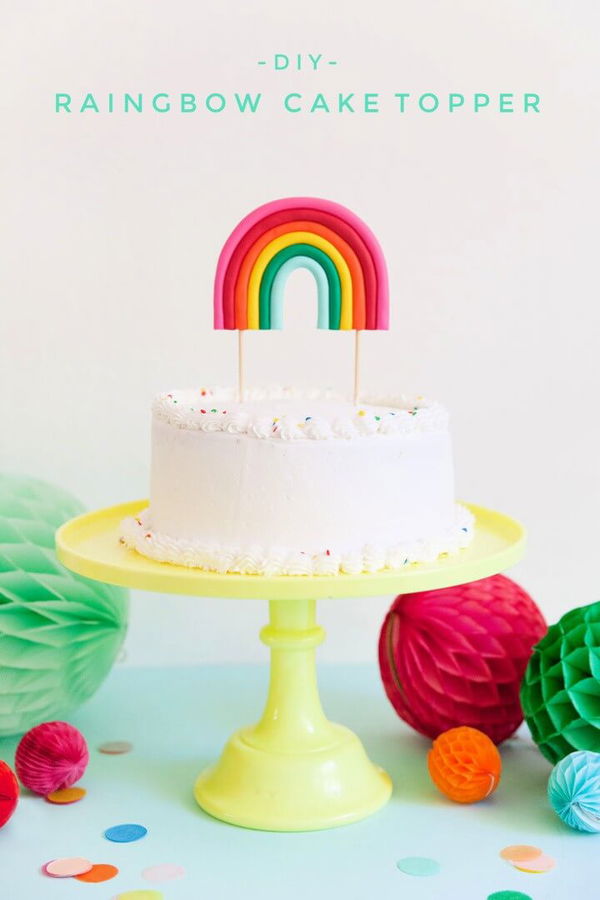 This white snowy cake looks a treat to eyes and to the tongue with that rainbow cake topper. Just like you make cakes at home you would love making this rainbow topper on your own too. Grab some clay and skewers to shape up this cute and colorful cake topper. Tutorial here!
Tutorial: tellloveandparty
Rainbow Ribbon Fairy Wands For Kids: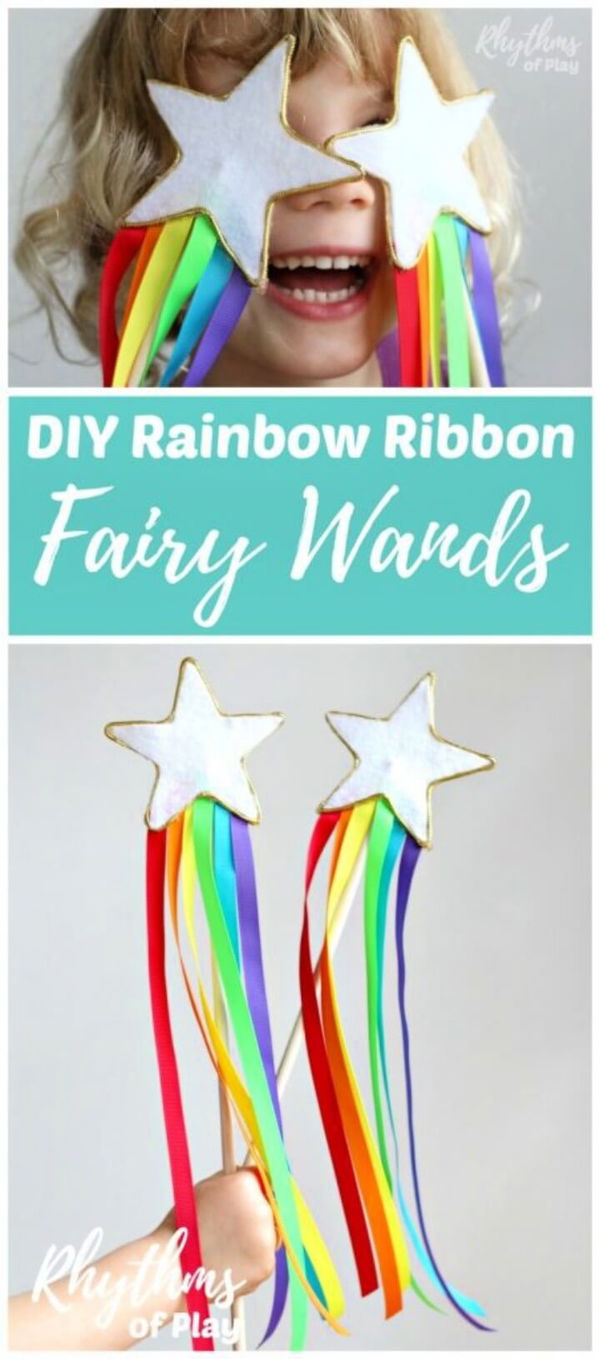 Girls love to role play as the fairies and all fairies have wands. Now you can make your girls these super cute and colorful rainbow ribbon fairy wands and they would love them so much. The main supplies that you need are the white felt, rainbow ribbons, wooden dowel, and gold tinsel cord. More details here!
Tutorial: rhythmsofplay
Rainbow Taper Candle Holder: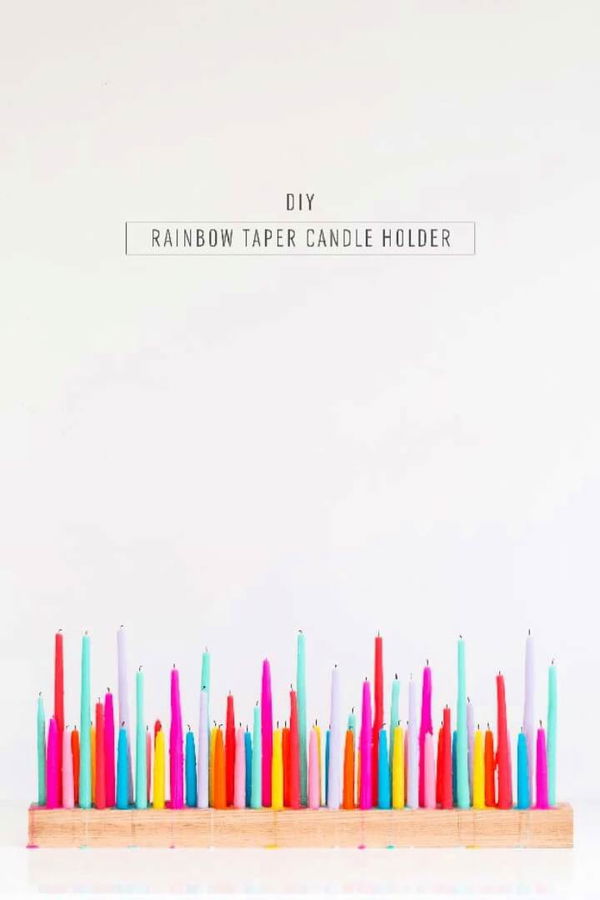 This rainbow taper candle holder would make a charming centerpiece for your summer dinner tables. The taper candle holder is three feet long and it is holding 50 rainbows colored candles inside it. The candle holder is quite easy to make with a wooden board and some tools. How to here!
Tutorial: sugarandcloth
Easy Rainbow Cupcakes: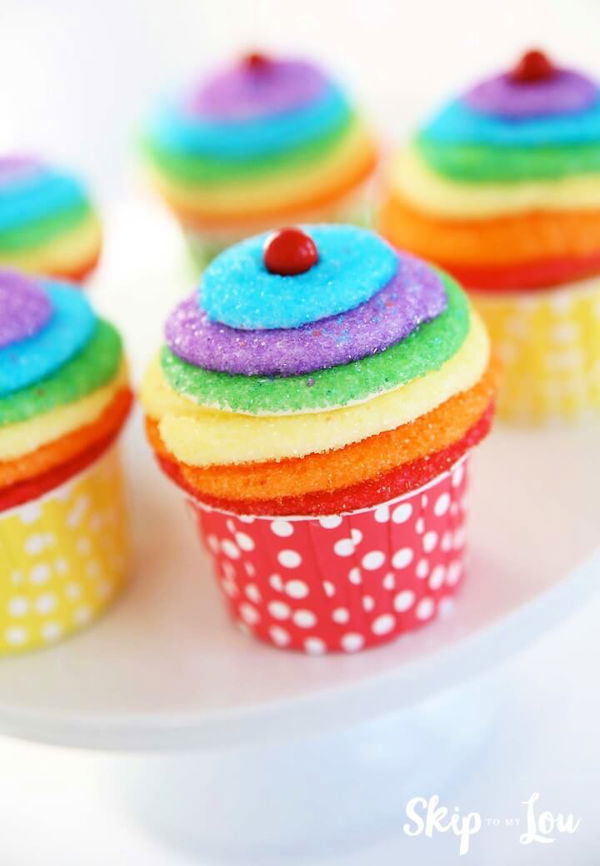 Cupcake would look more mouth-watering and tempting with the rainbow colors on them. So for your next summer party, you can get your hands on these super cute and colorful rainbow cupcakes. The rainbow effect is achieved with the rainbow-colored sand sugar. Complete details here!
Tutorial: skiptomylou
How To Make Keychains Rainbow Foam Initial Letter: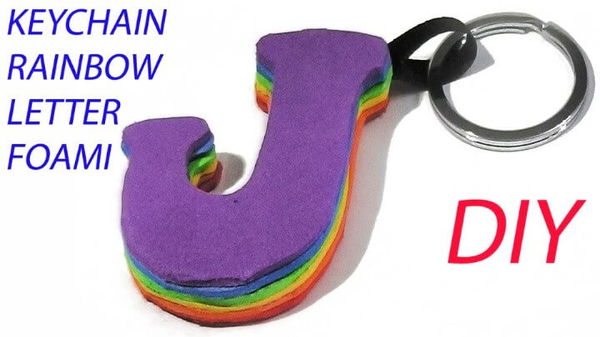 Make your key chain totally custom and personalized by adding your name initial to it. This idea of rainbow foam's initial letter is just so damn pretty and adorable. So get foam sheets in rainbow color and cute out your initial. Lastly, glue down all the colored initial to get your rainbow initial ready.
Tutorial: mycrafts
Rainbow Pom Pom Pillow:
Make your white pillows look super gorgeous and fun with some color addition. This idea of rainbow pom pillow would be just perfect to make the pillow look all spruced up. With fabric paint and some cute pom poms, you can really charm up a plain pillow. Details here
Tutorial: mladipula
Rainbow Glowing Bouncy Ball: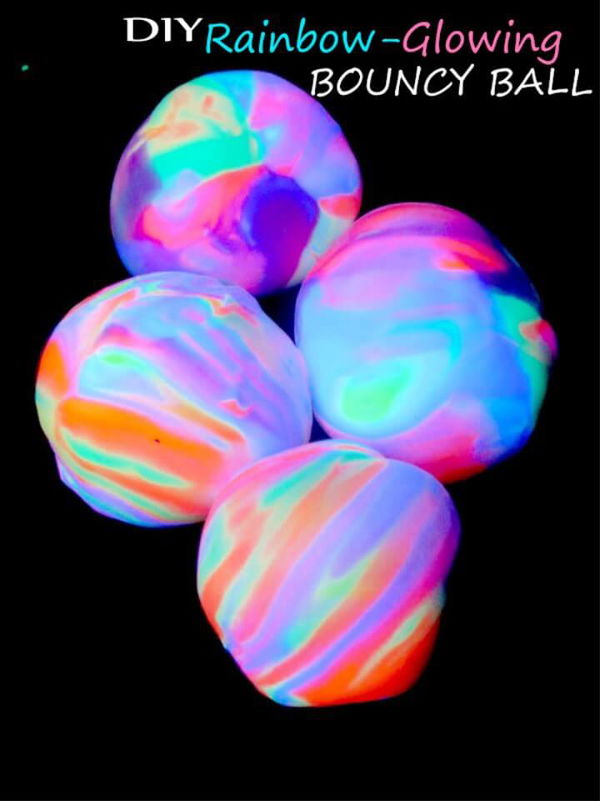 Let your kids indulge in some fun summer craft just like this rainbow glowing bouncy ball. They are super easy and fun to make play with. You can find most of the ingredients from your kitchen to make this like borax, starch, and water. Get some glow in the dark paint and start it up.
Tutorial: holicoffee
Related Posts: