Sometimes only a single possession can bring a wholesome kind of beauty and comfort to your spaces and the ottomans are surely one of them. But there is a twist! Instead of those boring market bought poufs you can now create the delight crochet poufs at home. To inspire you for this new crochet journey we have brought to you these 24 Crochet Colorful Pouf Ottoman Free Pattern that too with step by step details. Your relaxing experience would surely go higher with these cute crochet pouf ottomans lying around you. Also, the décor and beauty of your space are going to groom up with the addition of these lovely crochet ottomans.
Either you want to create a whole new pouf ottoman for your living or you want to remodel the old one these ideas have covered you with everything. From bedroom to your living room and from your reading nooks to the nursery rooms these crochet pouf projects have ideas for each space. Kids would love to sit, jump and relax on the comfy and cozy poufs. The elders can boost up the relaxing by putting feet their on these crochet poufs while lying on their favorite chair or sofa. Enjoy the detailed ideas below!
You May Also Like:
Crochet Argyle Bean Bag Ottoman: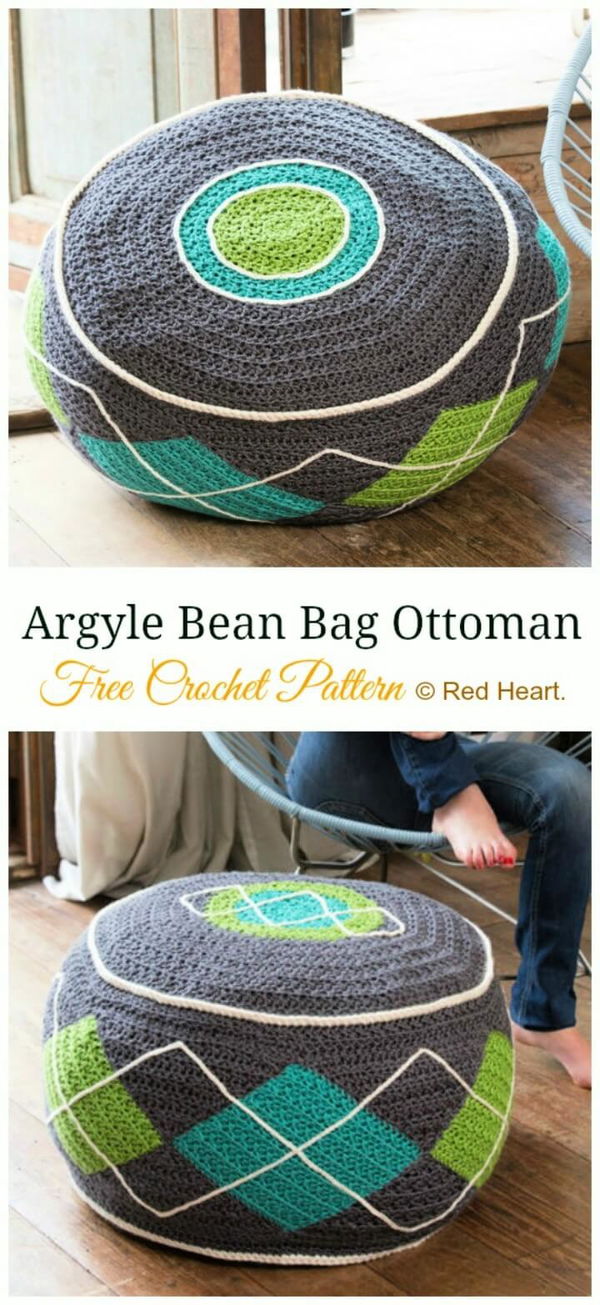 Make your living spaces look more of modern chic décor with this crochet argyle bean bag ottoman. The colorful rhombus shapes on the ottoman are adding cheerful vibes to the whole pattern and the ambiance around. You can download the free pattern right here!
Tutorial: redheart
MJ's Textured Floor Pouf Tutorial: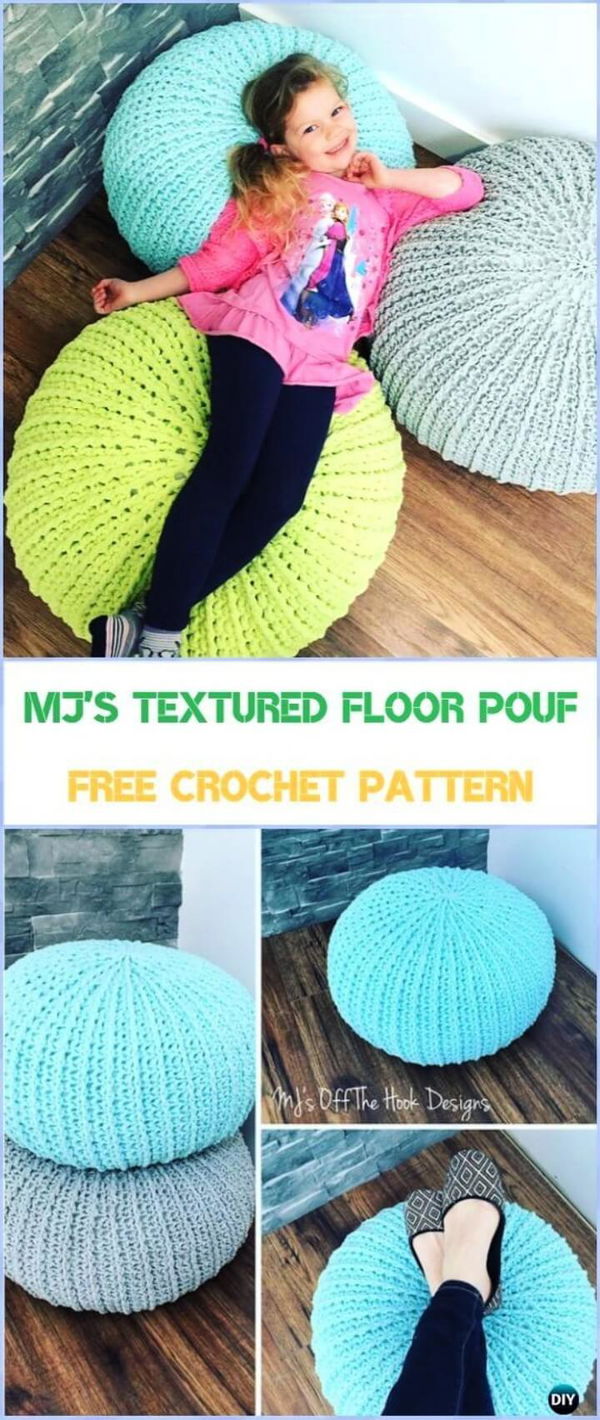 Tutorial: youtube
Crochet No Holes Pouf Cover: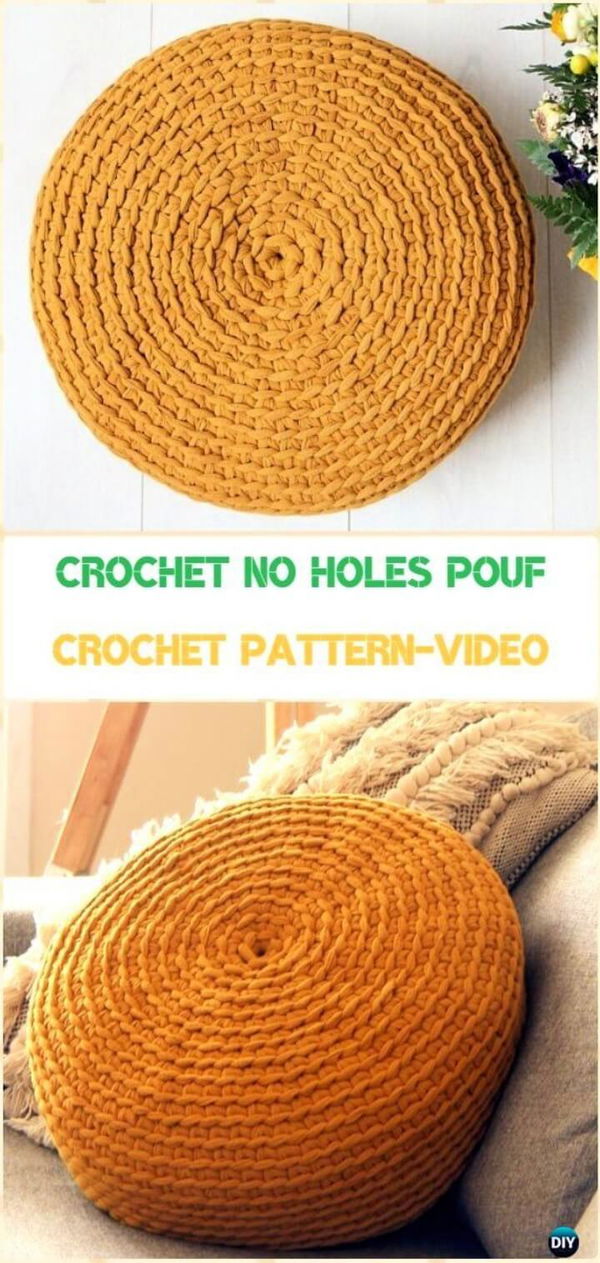 Need something orangish to bring some fall vibes in the home décor? Making this gorgeous crochet no holes pouf cover would be the perfect project. The gorgeous crochet pouf looks just so catchy and cool to the eyes with its spiral work. Follow the pattern with details here!
Tutorial: youtube
Crochet Floor Pillow Pouf Ottoman: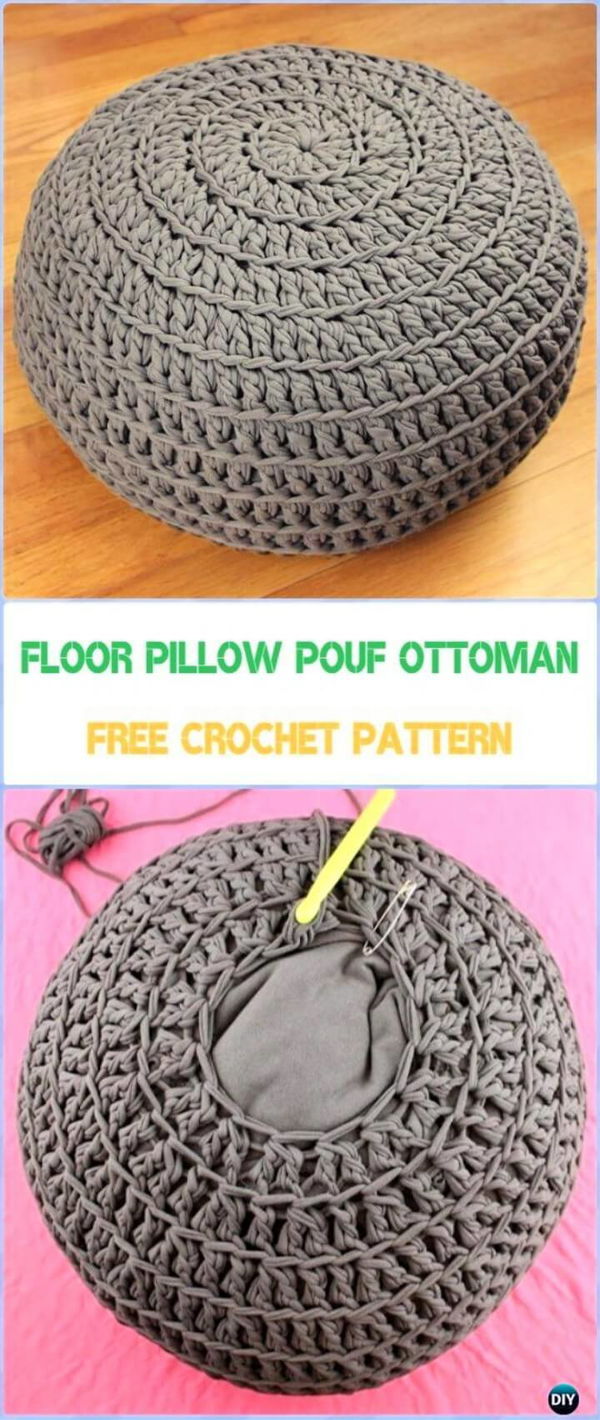 It's time to crochet up some home décor items and this crochet floor pillow pouf is the first thing to get your crochet hooks on. The gorgeous t-shirt yarn pillow is used here with 11.5 mm hooks to make the ottoman such a desirable and stylish piece of living room beauty. Details here!
Tutorial: gleefulthings
Crochet Stylish Pouf: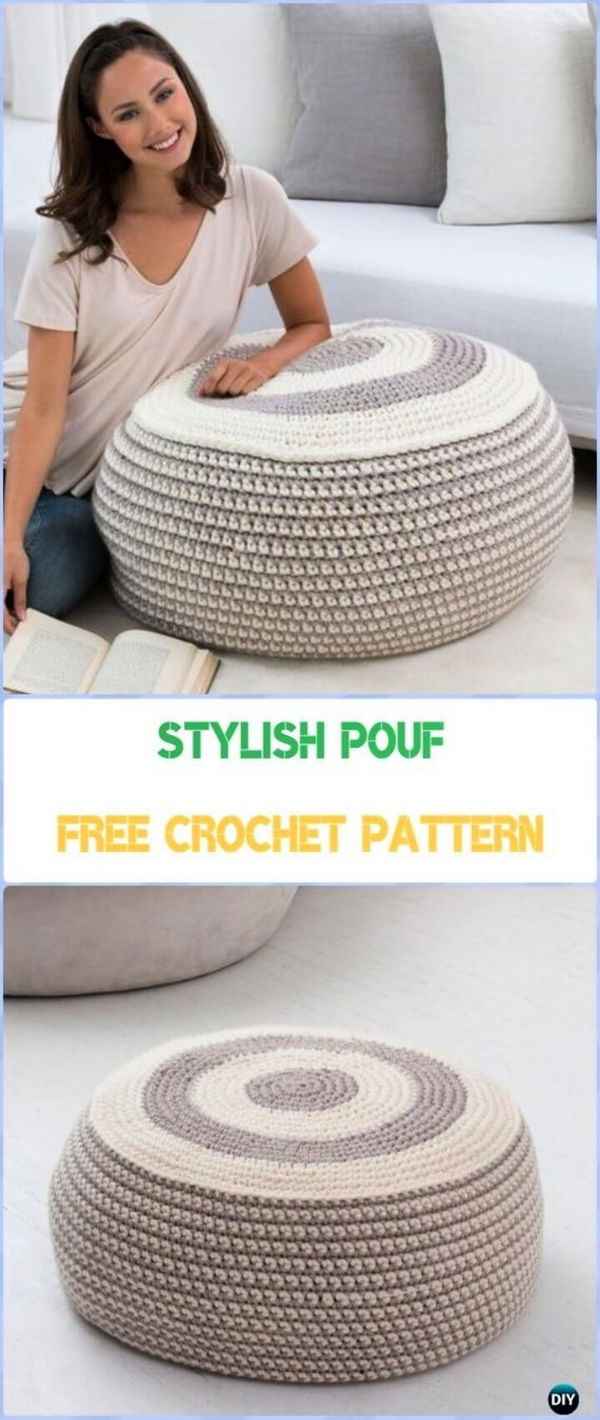 A simple addition can really change your décor game and this crochet stylish pouf is the proof. The use of double yarn in this crochet pouf has really brought out the beauty and appeal in the patter. Also, the strips are adding more charm to this poufy crochet beauty. Free pattern here!
Tutorial: redheart
Crochet Sitting Bag/Pouf Tutorial: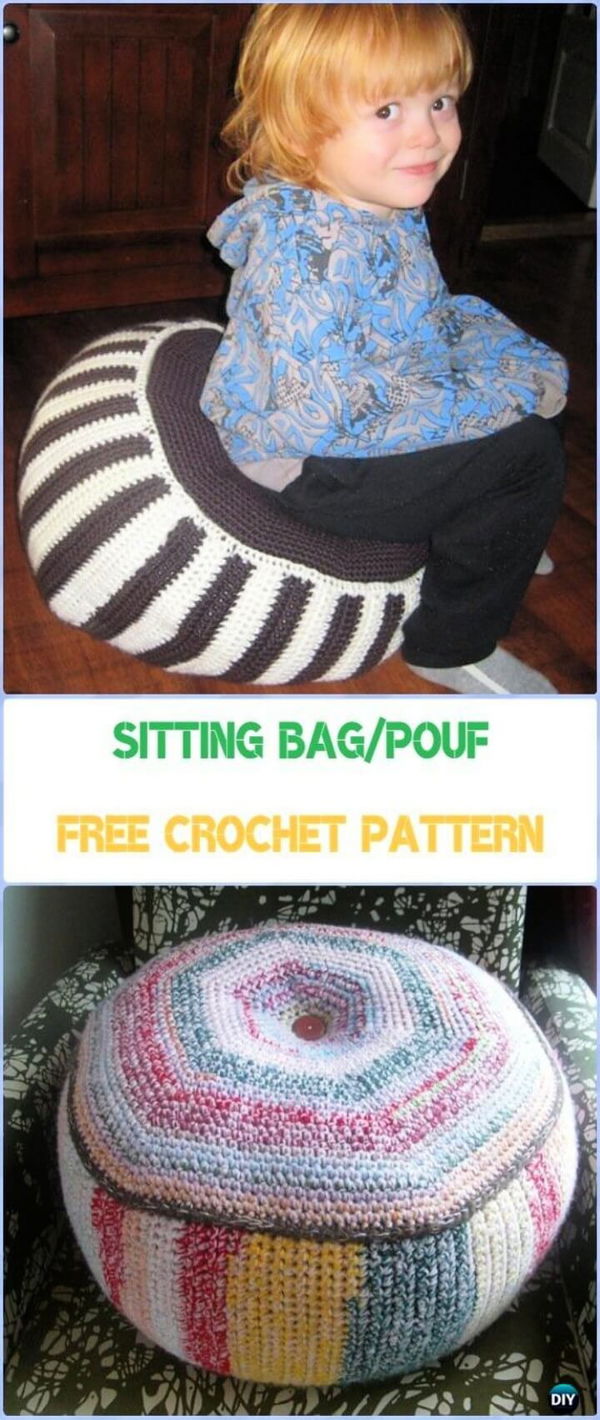 Bring some seating fun in your living room or to the kid's room with this lovely and cute crochet pouf. The colorful yarn hues have been used to shape up this gorgeous crochet pouf. The pattern is that of a hexagon to look more stylish and chic. You can grab more details here!
Tutorial: ravelry
Free Crochet Floor Pouf Pattern:
Add more to your comfort while resting on your sofa as you get this lovely crochet floor pouf next to you to hold your feet on. The beauty and charm of this floor pouf lie in the melon-like strips done all over it. You need 5 skeins of some bulky or weight yarn to crochet this size of pouf.
Tutorial: twindragonflydesigns
Crochet Sugar High Donut Pouf: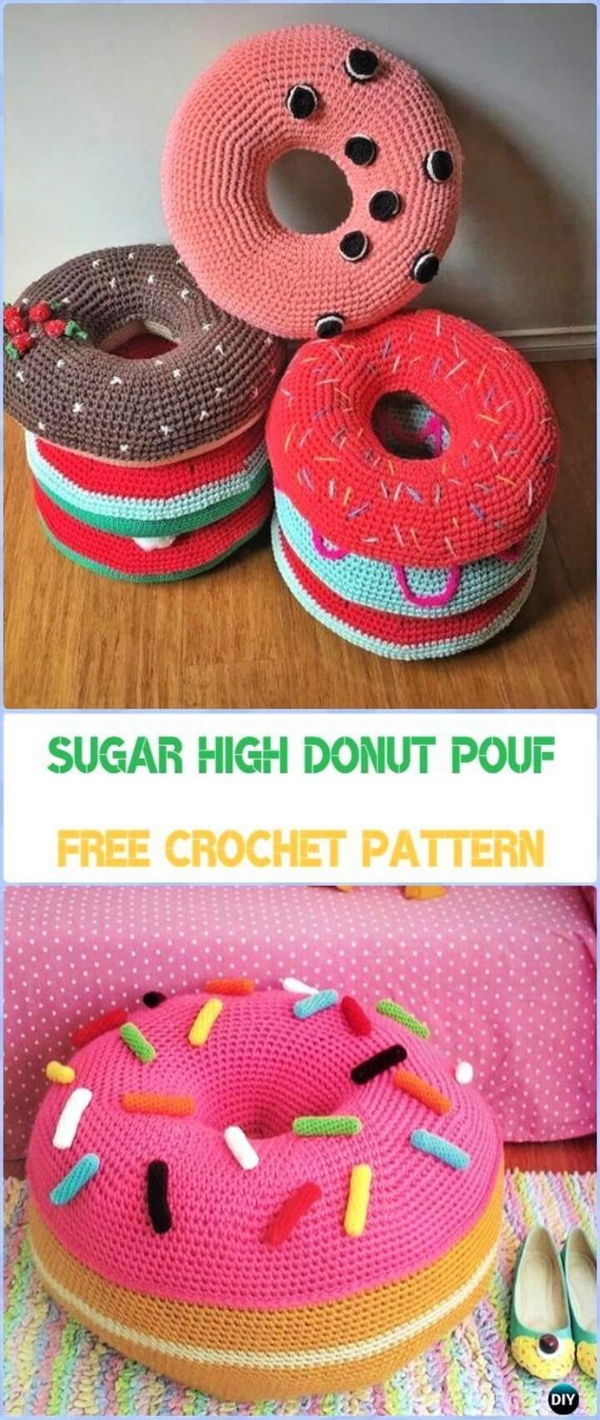 Summers are all about the funky colors and patterns and these crochet sugar high donut poufs are going to add so much beauty to your summer home. From your living room to the bedroom and the kid's room, these donut poufs would make an exciting addition to all. Medium weight yarn and 5mm hooks are the things you need.
Tutorial: allfreecrochet
Crochet Pumpkin Pouf: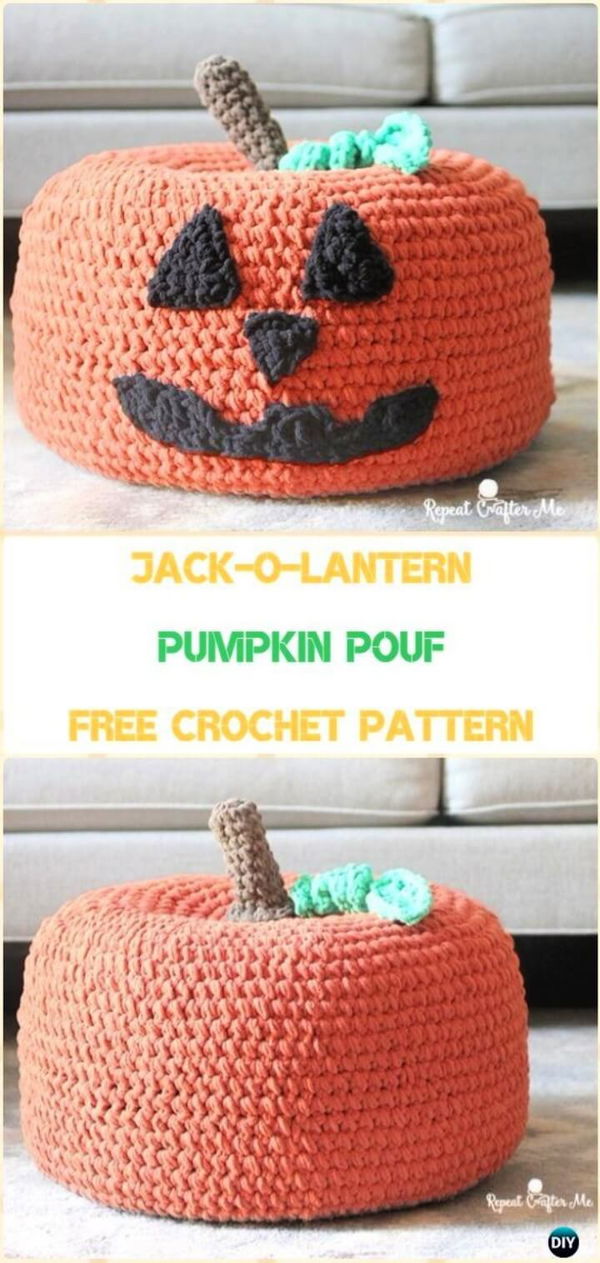 You can use your crochet skills to decorate your home for the fall or Halloween and this crochet pumpkin pouf is just apt. So grab some orange yarn for the pumpkin, black to feature the face and some brown and green for the top stem. Learn more here!
Tutorial: repeatcrafterme
Crochet Apple A Day Pouf: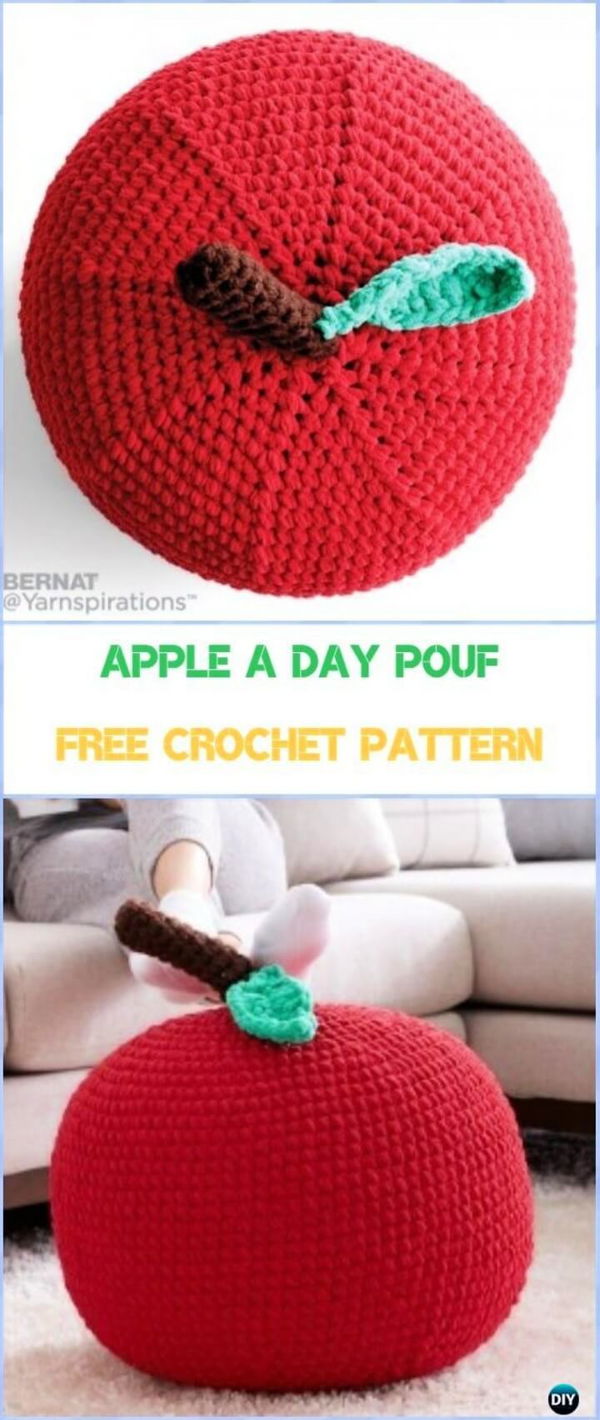 Summer is the fruity season to eat these yummy fruits and use them in crafts so making this crochet apple a day pouf would be a great idea. This giant yarn apple would be so soft to your feet while you are lingering on your chair or sofa. Get the pattern and stitching details here!
Tutorial: yarnspirations
Crochet Stash Busting Monster Pouf: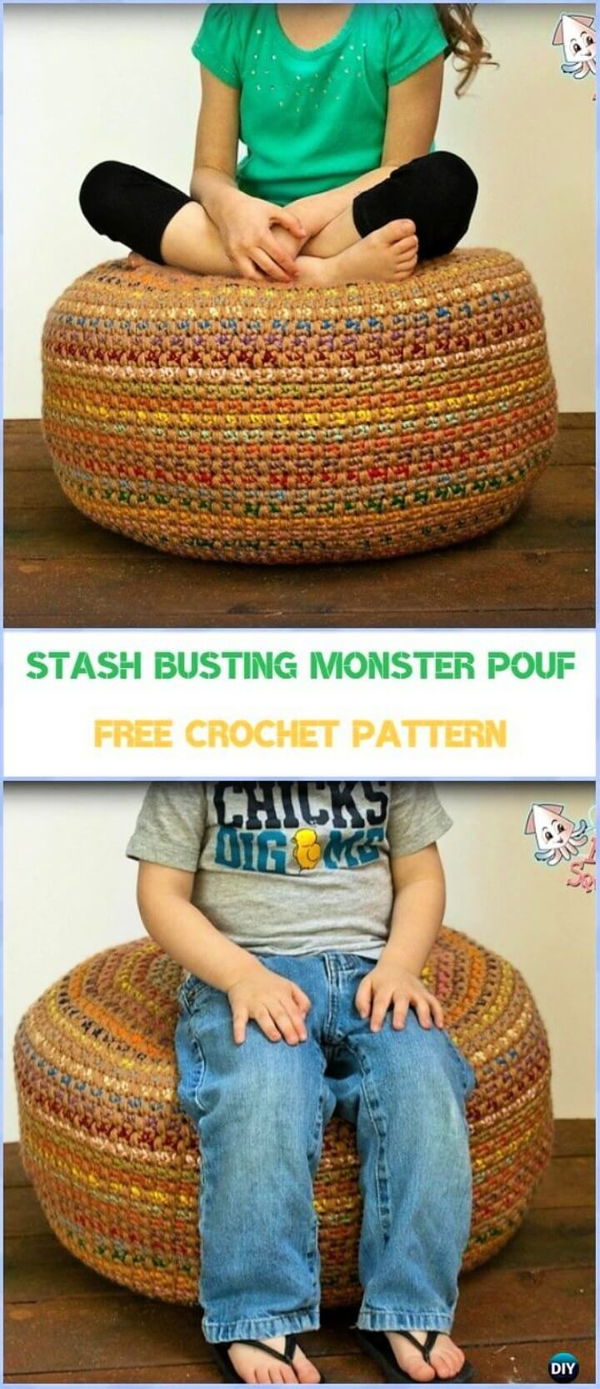 This gorgeous stash-busting monster pouf looks like a cultural piece in its attire and beauty. This project is best to use your left our yarn as each spiral of this pouf has a new yarn color to look just so fancy and gorgeous. Complete details with the pattern are here!
Tutorial: ktandthesquid
The Sampler Pouf Bean Bag: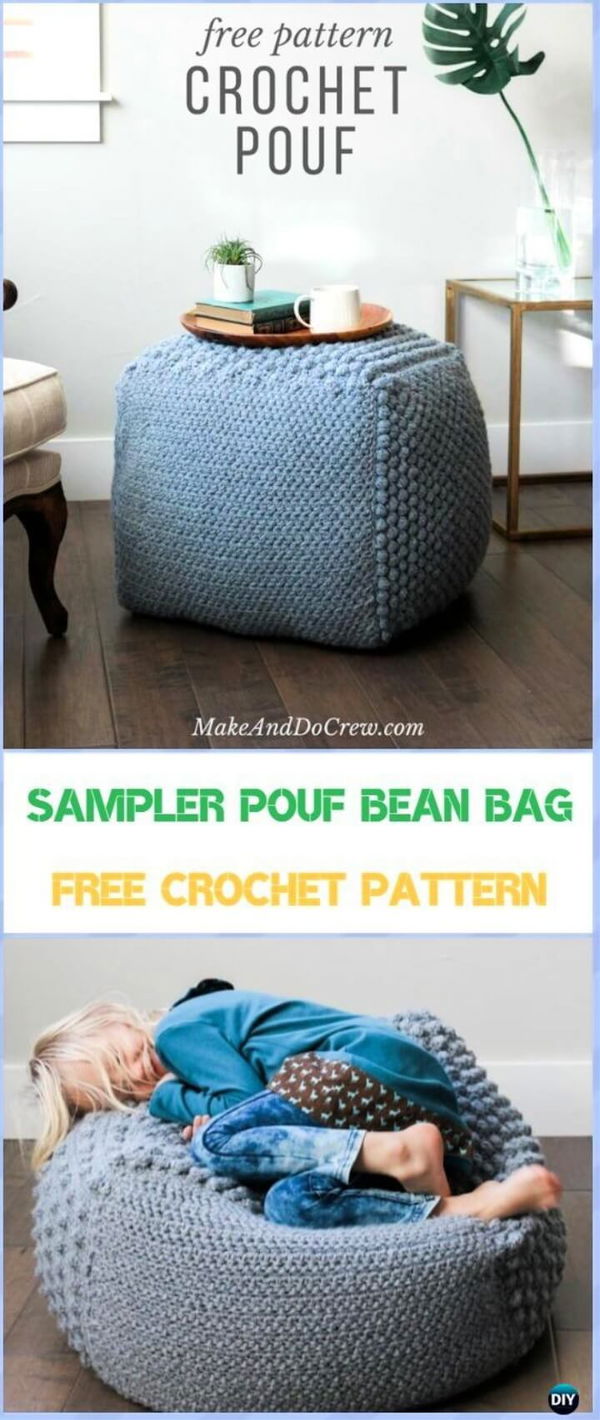 This super cute sampler pouf bean bag would look so cute resting in your living room by the side of your sofa. The pouf has simply stitched patterns on the two sides and the bobbles on the others to look just so quirky and cute. Get yarn and tool details here!
Tutorial: makeanddocrew
Crochet Granny Square Ottoman Cover: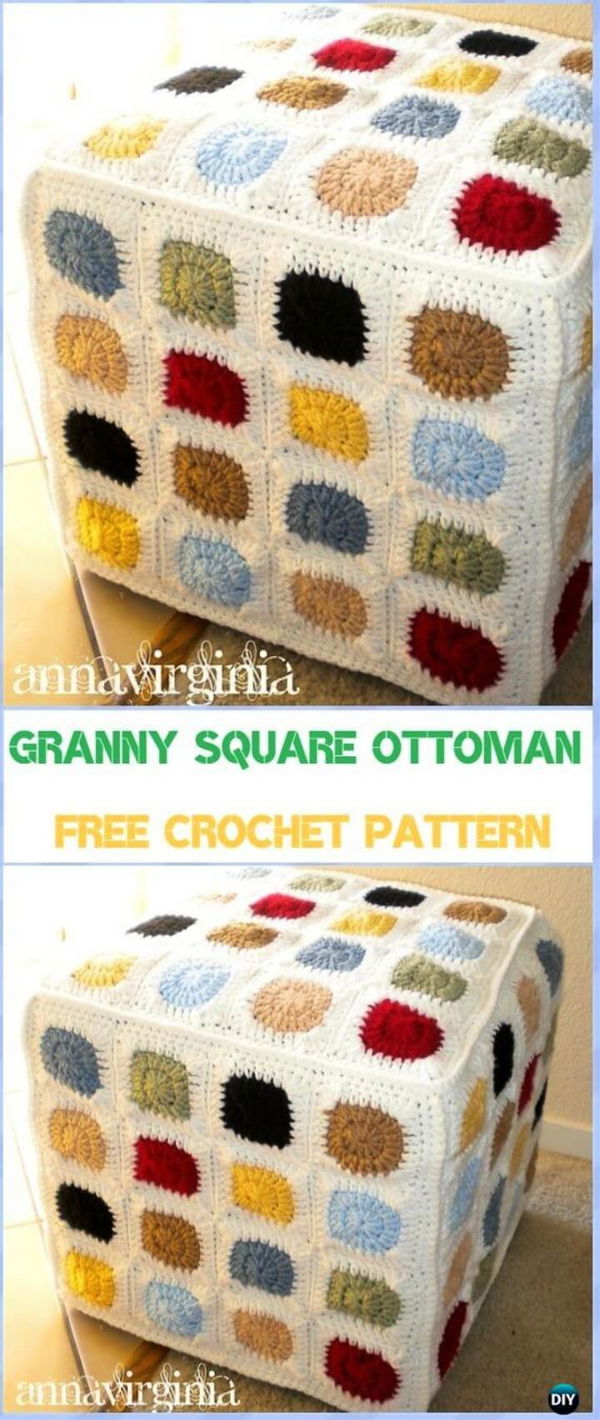 This lovely crochet granny square ottoman cover is so delightful due to the color combination of bright yarn hues with the base white color. The 14" wide cover is made out of the squares and each square is made out of the smaller 3.5" individual squares. Learn all about it here!
Tutorial: annavirginiafashion
Crochet Motif Ottoman Cover: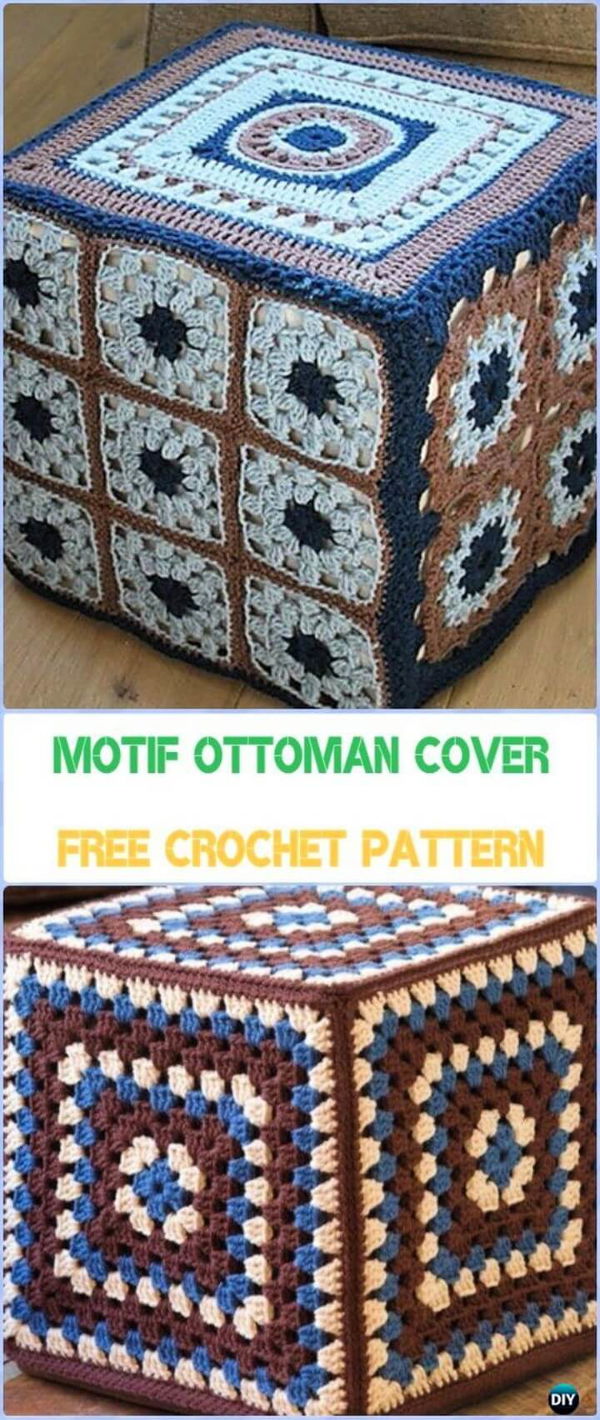 If you have bought a second-hand ottoman and need to restyle it then this crochet motif ottoman cover idea is just for you. Crochet 5 squares with multiple yarn hues of your choice and stitch them together to form this lovely and truly exquisite ottoman cover for your pouf.
Tutorial: redheart
Crocheted Pouf: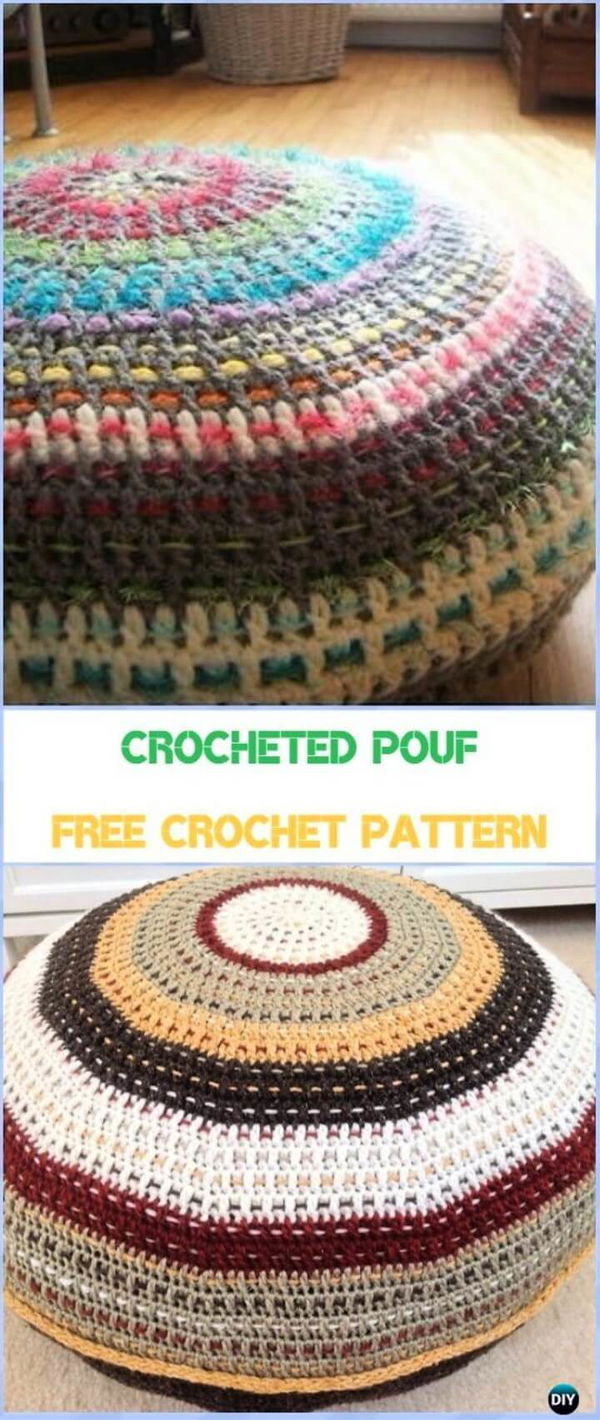 Bring some cheerful vibes to your living room décor with this gorgeous crocheted pouf. The colorful yarns are infused in between the patterns which really blend in well with the base yarn hue and the whole design which looks like a mandala. Grab your yarn and the yarn stash to work this pouf up.
Tutorial: blogspot
Crochet Hexagon Blues Ottoman: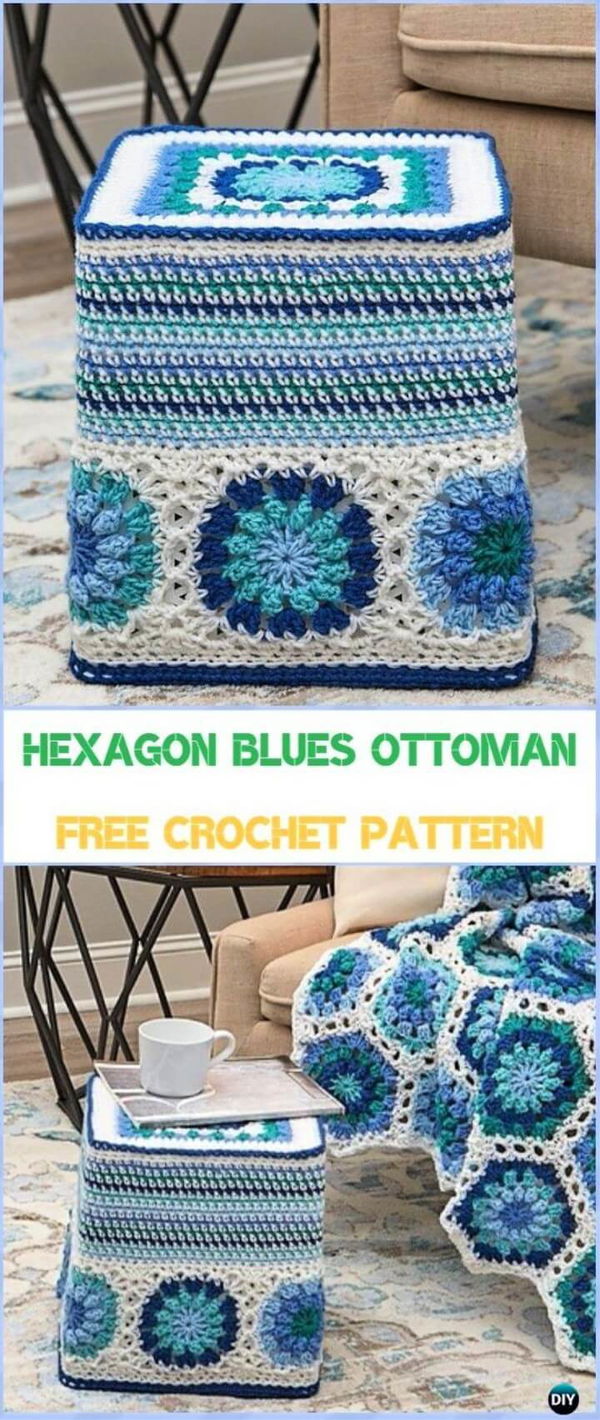 This lovely crochet hexagon blues ottoman has multiple more hues of yarn with the blue and looks perfect for a summer home. You can adjust the color combination per your desires and make the ottoman ready for any festive and season. The free pattern and other details here!
Tutorial: redheart
Crochet Sweetie Pouf:
This gorgeous crochet sweetie pouf is something that we would want. The color combination of the yarn hues and the stripy pattern really makes the pouf look a complete stand out piece. You need 4.mm hook with respective colored yarn hues to work it up this weekend. Free pattern here!
Tutorial: mooglyblog
Crochet Toadstool Pouf: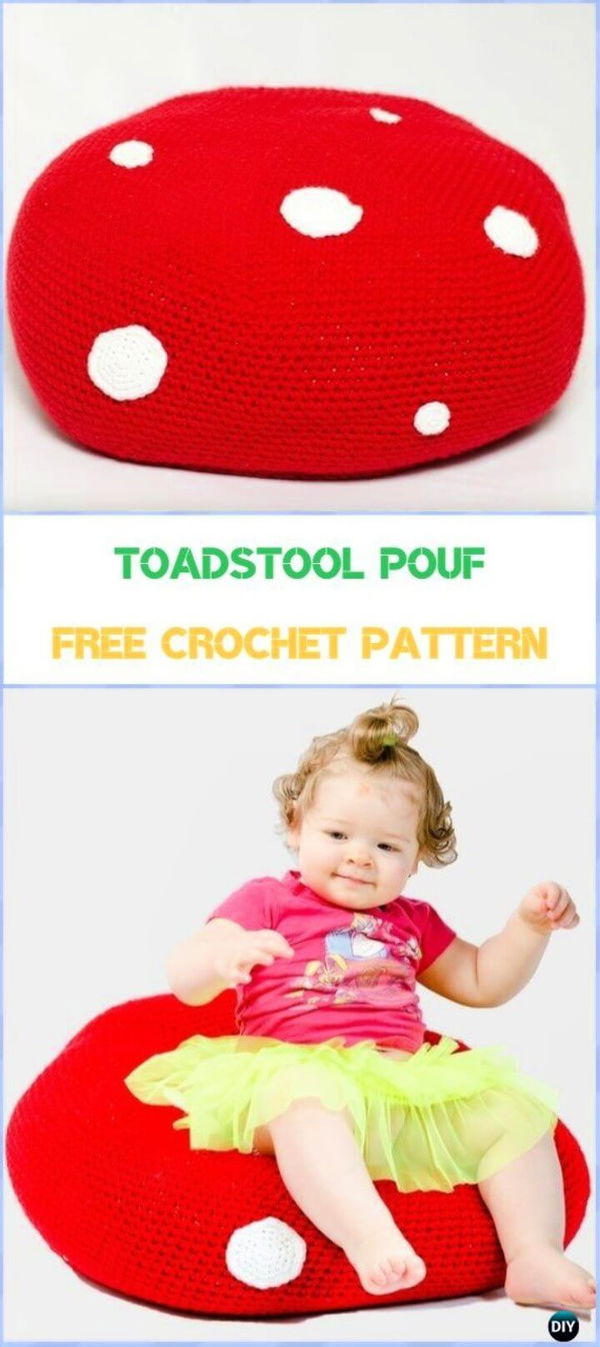 Bring some fun to the nursery room of little one with this crochet toadstool pouf. The kids would jump sit and play with this cute and brightly colorful toadstool pouf. You can crochet it up in any of the colors that match the nursery room décor. Pattern with details here!
Tutorial: spookyfishcrafts
Crochet Stripey Pouf: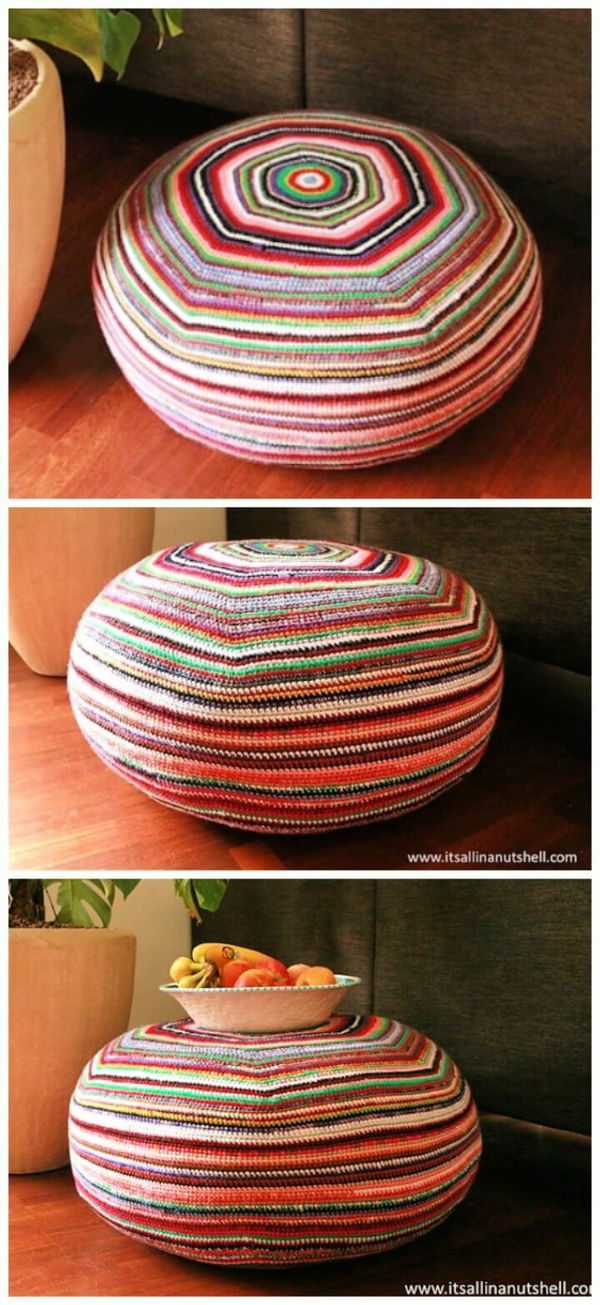 No need to store your left out yarn pieces in the basket as you can create this gorgeous crochet stripy pouf of it your whole yarn stash. The colorful stripes and the hexagon pattern really add catchy vibes and beauty to this pouf and make it perfect for a summer home décor. Easy pattern details here!
Tutorial: itsallinanutshell
Crochet Mosaic Floor Pouf: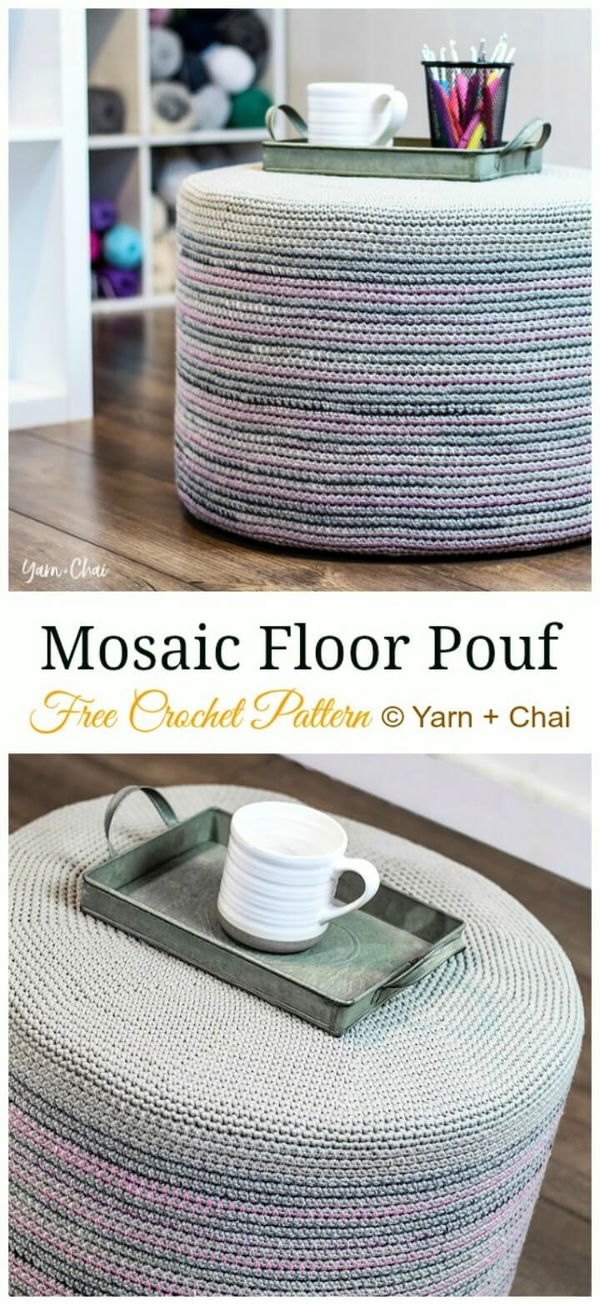 Here is this gorgeous mosaic floor pouf to bring super elegance and charm to your living room. The crochet mosaic effect has been gained here with the use of double yarn hues both on the base and the sides of the pouf. You can check out the details here!
Tutorial: yarnandchai
Crochet Spiral Floor Pouf Tutorial:
Let your little ones have more fun and comfort in their rooms with this crochet spiral floor pouf. The green yarn crochet floor pouf has peach color spiral all over to look just so pretty and cute. The kids would love to relax, jump and sit to read their favorite book on it. The pattern here for free!
Tutorial: ravelry
Crochet Pouf Of Many Colors: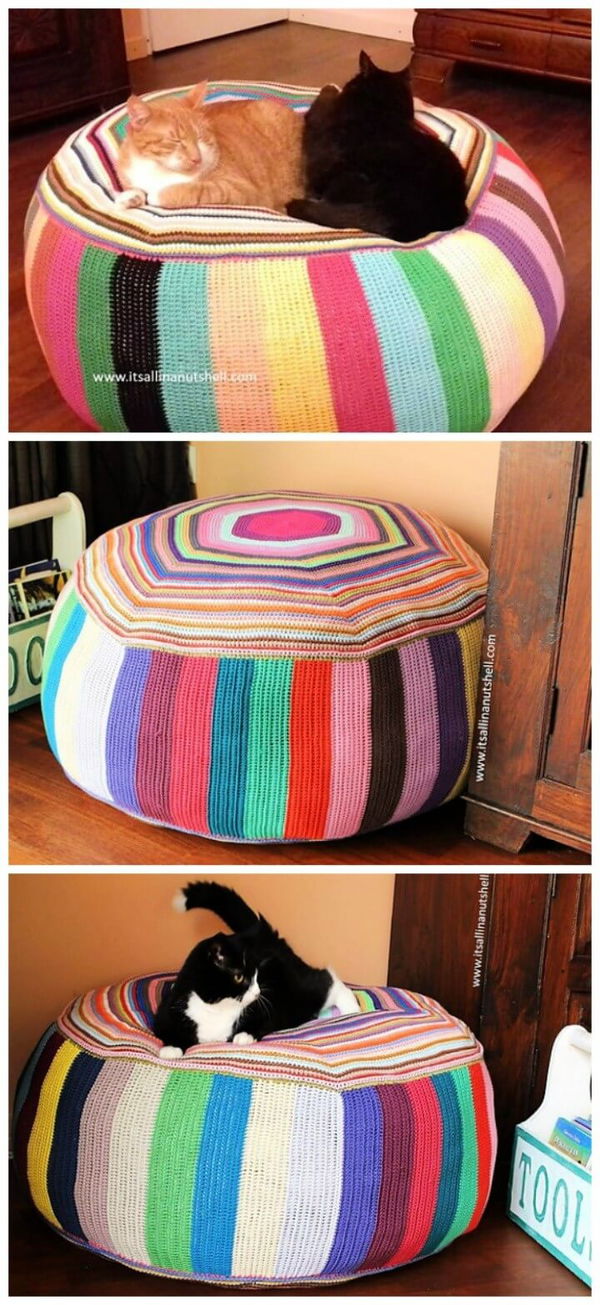 This giant size crochet pouf is perfect for the grown-up kids to have a comfy corner to read and relax their body and mind. Also, the pouf has an amalgamation of multiple yarn hues to look just so fantastic and eye-catching along with the hexagon pattern. Get the how-to here!
Tutorial: itsallinanutshell
Free Mini Kitty Pouf Pattern: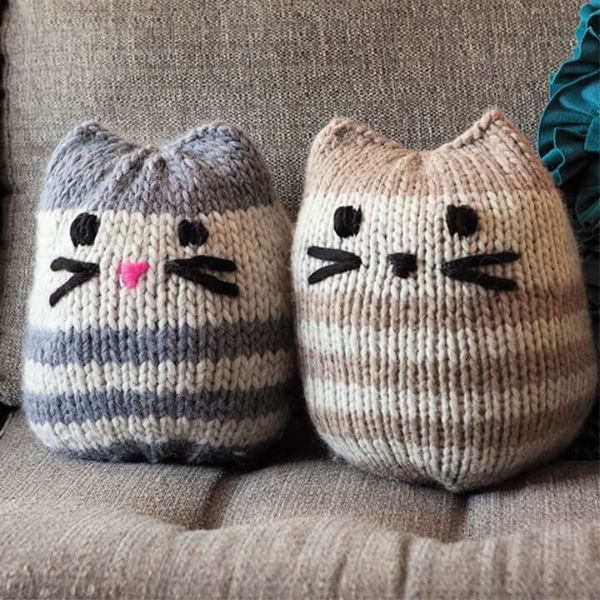 This pair of mini kitty pouf is the cutest thing you would see on the internet today. No one can resist how adorable and desirable they are. So if you also want them for your kids then get the yarn and your crochet hook to work up this easy and fun pattern. Also, it would make a great Holiday gift.
Tutorial: knitpicks
Crochet Round Pouf: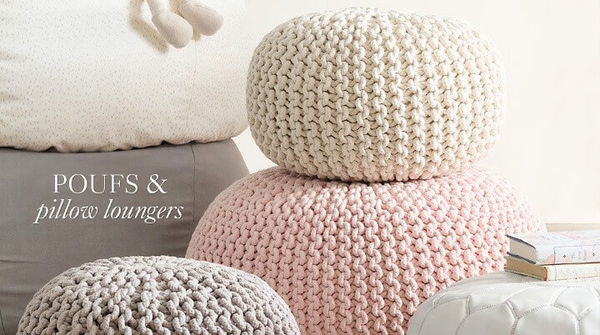 Winters are more about the whites, subtle and neutral hues in the décor so these crochet round poufs are of the same kind. The big and comfy poufs are easy to crochet with your favorite lighter yarn shade. You can use them as poufs, ottomans and also as a seating pouf for the kid's room. Details here!
Tutorial: youtube