Glass shelves present homeowners & design enthusiasts with a highly functional storage option to renovate & decorate their living space. The minimalistic design of glass shelves allows it to seamlessly fit into the home decor theme and helps build a better coherency between exclusive decor elements of the living space. In this way, floating glass shelves do much more than provide a functional storage solution and are often used as a decorative decor element.
Nowadays, stylish bent & curved wall glass shelves are insanely popular as their distinctive looks make them eye-catching & spectacular. These shelves can be incorporated in any area including bathroom, living room, office wall, study room, or kitchen space. Every living space benefits from an extra storage option and can use a decorative and fancy glass shelf. These shelves promote design creativity in multiple ways and are available in tons of different colors, styles, and shapes. In addition to this, wall shelves can also be personalized as per homeowners' unique decor needs & requirements.
Made with high-strength tempered or toughened glass, these shelves are designed to withstand the tests of time and serves as an emblem of durability. Thus, it offers better functionality & accessibility without compromising on visual beauty & durability. That's not all, there are also numerous accessories available with these minimalistic glass shelves that make them more easy-to-use and simple-to-maintain.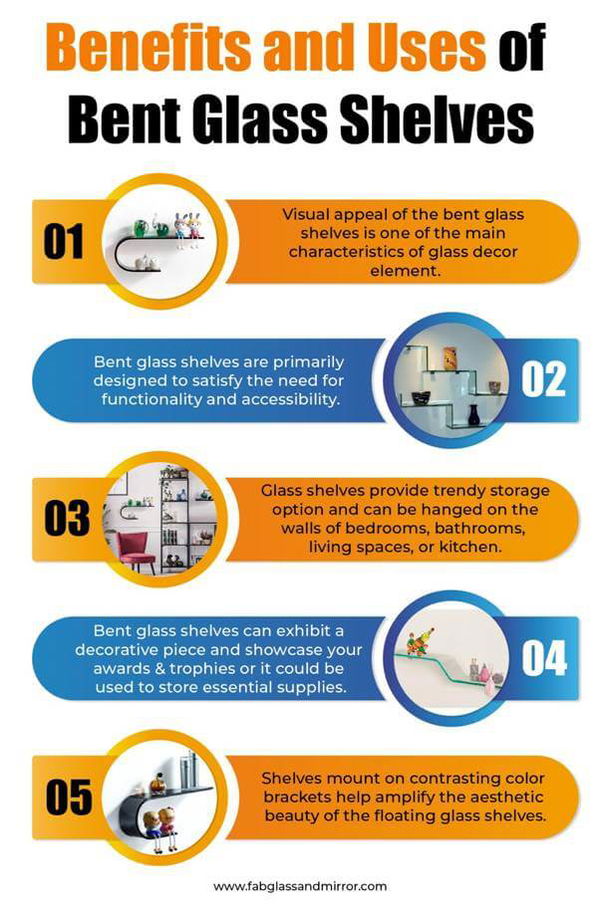 Stylish bent glass shelves in three fabulous colors
Stylish bent glass shelves are one of the most likable shelf designs and can be used in any given living space. There are hardly any design constraints or limitations of floating glass shelves and their design versatility aids homeowners make the best use of this creative decor element. The exclusive and creative looks of bent glass shelves align perfectly with the contemporary decor themes of today & tomorrow. Designed with flat polished edges, these shelves rest on square & other shaped chrome brackets that are mounted firmly on the walls.
Advantages & Uses of Bent Glass Shelves
The sensational visual appeal of the bent glass shelves is one of the leading characteristics of this modernistic glass decor element. These shelves are primarily designed to satisfy the need for functionality and accessibility. They provide a chic and trendy storage option and can be hanged on the walls of bedrooms, bathrooms, living spaces, or kitchen. You can either use these shelves to exhibit a decorative piece and showcase your awards & trophies or it could be used to store essential supplies.
Made with exceptionally appealing glass, these shelves when used as a trophy holder look the world apart. Pieces of glass decorations placed on a glass shelf is an eye-catching sight for every design enthusiast and lover of contemporary design. Its incredible design versatility is another amazing advantage of the bent glass shelves that are available in three fabulous colors. These include bronze, grey, and clear glass shelves. All shelves mount on contrasting color brackets that help amplify the aesthetic beauty of the floating glass shelves.
Curved wall shelves in three attractive colors
Curved wall shelves are among the most creatively pleasant decor elements of the interior space. Their unique design never fails to capture the attention of contemporary design lovers and always makes a solid impact. The bent & curved glass shelves take minimal wall space and provide maximum functionality & storage. Homeowners often use these shelves in a series to amplify its design impact and revamp the beauty of the interior space. These shelves are perhaps best for the living room, bedroom, kitchen, & bathrooms as they perfectly complement the sophisticated decor themes of today.
Advantages & Uses of Curved Wall Shelves
The floating glass shelves are incredibly lightweight and easy to install and that's one of the leading reasons why it is the preferred choice of the majority of design enthusiasts. Designed in multiple colored glasses including bronze, clear, and grey, these shelves encompass two tiers and serves as an excellent storage solution for storing home supplies, decorative pieces, trophies, and much more. The delicacy of these shelves should never be confused with its strength as they are built with high-strength and durable toughened glass.
Shipped with mounting hardware including brackets & clamps, these glass shelves are easy to clean and simple to maintain. The flat polished edges of the glass make these shelves safe for home interiors and they impose no safety hazard or risk even in the event of breakage. Another amazing aspect of the curved wall shelf is its perfect dimensions that are adequate to store home supplies or showcase trophies & souvenirs. The homeowner often uses these shelves in the bathroom as their minimalistic design goes well with the sophisticated contemporary bathroom decor themes. The multiple tiers of these shelves can be used to keep a wide range of supplies in a properly distributed & orderly way.
Shelf Brackets and Clamps: Accessories with the Floating Glass Shelves
A glass shelf is incomplete without its brackets, clamps, and other accessories. However, there's never a need to compromise on visual beauty in search of augmented durability. Fab Glass & Mirrors provide exceptional and high-quality shelf brackets & clamps that are available in numerous styles, shapes, and colors. Homeowners can either use square shelf brackets, round glass clamps, peacock brackets, or stylish aluminum ones.
There is no shortage of options and every shelf bracket or clamp is unique and exclusive in its way. Most importantly, every bracket design provides perfect stability and is incredibly easy to install with the help of screws and plastic anchors. The beauty of the shelf bracket makes the floating glass shelves more sophisticated and graceful and plays a key role in maintaining their minimalistic visual appeal. These brackets & clamps hold the glass shelf firmly in its place and are designed to last for a long. Anyone can easily install these glass shelves with the help of instruction manuals shipped along with the products of leading glass brands such as Fab Glass & Mirrors.