The globes have lost their informative value because the maps are now available in our mobiles. But surprisingly instead of getting thrown away, the globes are getting more involved in the home décor. People are giving some hugely inspiring makeovers to the globes and jazz up the beauty of their places more with them. Here we have the 26 Best DIY Globe Projects In The World – Quick & Easy Ideas for you to look into and get motivated. The ideas are super cool and highly unique to make you go gaga over them. So set your crafty skills of fire this weekend by getting your hands on a globe and turning it into an ultimate desk beauty.
One of the best uses of the globe is to use it for your wedding as the quirkiest guest book ever. The guests can write their wishes and names on the places they have come from or they want to visit. You can keep this guest book globe as a great keepsake of your wedding memory. Just simply paint the globes in your desired paint, fabric or papers and get to see their lovely avatars. Also, you can make some completely new globes using the Styrofoam too. Tutorial links of each are attached!
You May Also Like:
Painted Globe & Furniture Transfers: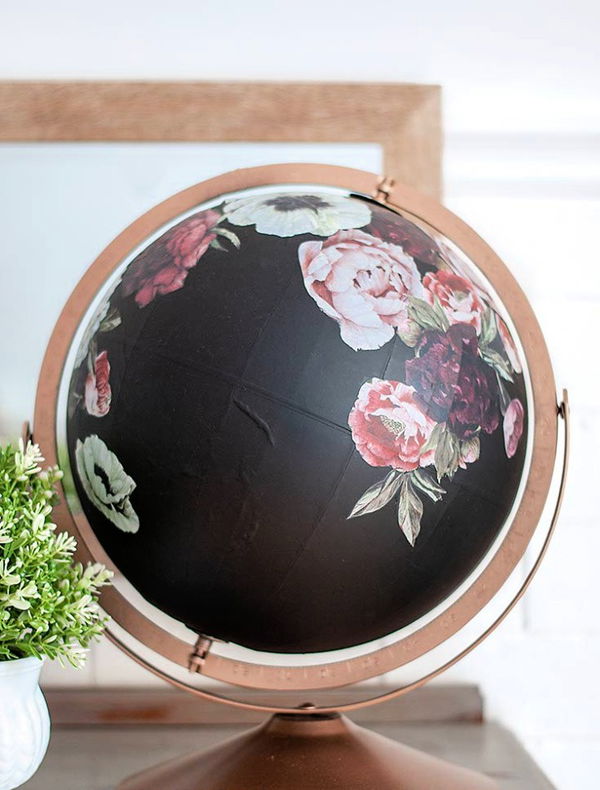 Create this gorgeous painted globe at home and bring some charm to your desk décor. You can upcycle your old globe for this idea or you can buy a new one from a thrift store. The globe needs to be painted black and then covered with cut out pink roses and Tada!
Tutorial: salvagedinspirations
Gold Globe Make Over: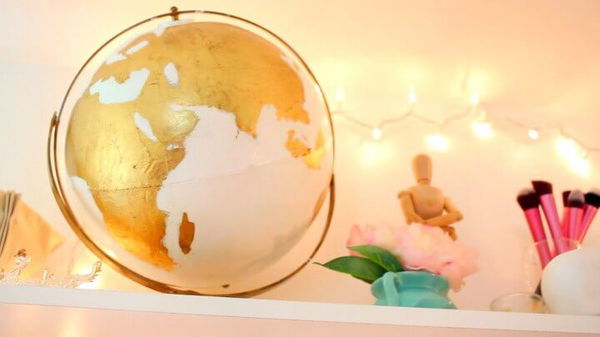 A globe makes a really welcoming arrival on the shelves and mantle displays. So now you can create this gorgeous gold globe and flaunt it over your décor shelves with utter proud. Take an old globe and give it a makeover with the gold paint. Follow the details here
Tutorial: youtube
DIY Globe Flower Vase: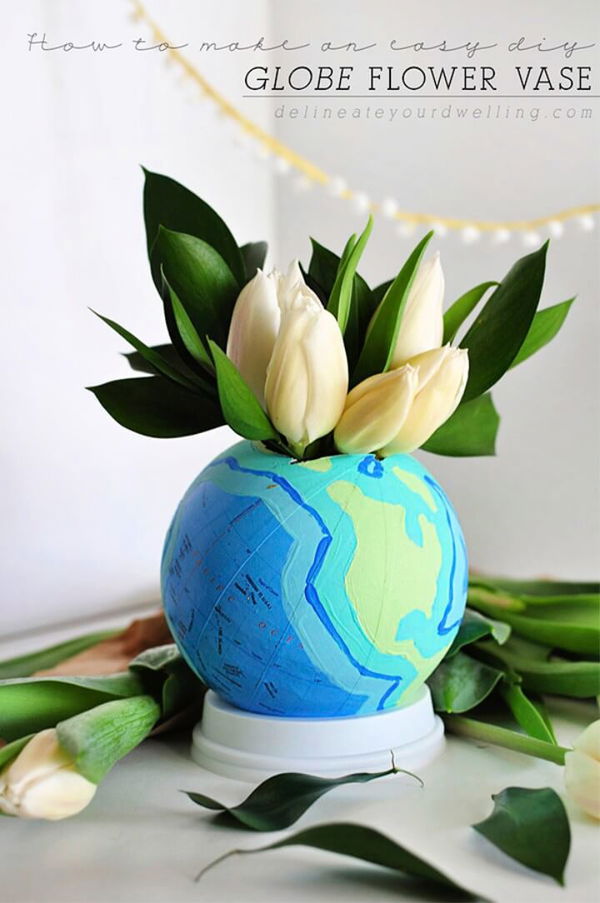 Now you can do more with the globes than them being just the informative pieces on the desk. Here is this ravishing looking DIY globe flower vase to look stunning on your dining tables. Some part of the globe is cut out at the top and it has been painted again to look fresh and gorgeous. Details here
Tutorial: placeofmytaste
Foam Ball DIY Globe: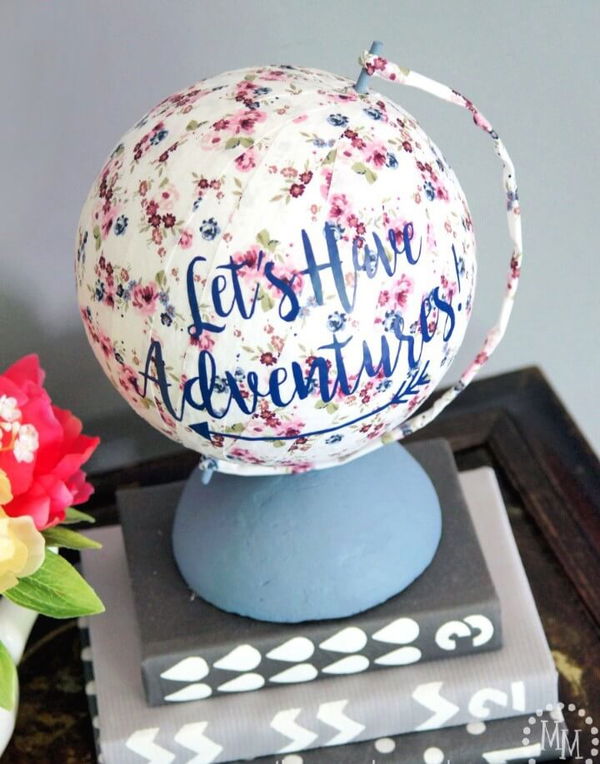 We all love globes and after looking at this handmade foam ball DIY globe you are going to love them more. This one is easy and super cheap to make with a foam ball being covered with some floral fabric. The globe says let's have Adventures which you can create through the vinyl. Details here
Tutorial: thescrapshoppeblog
DIY Cute Handmade Globe: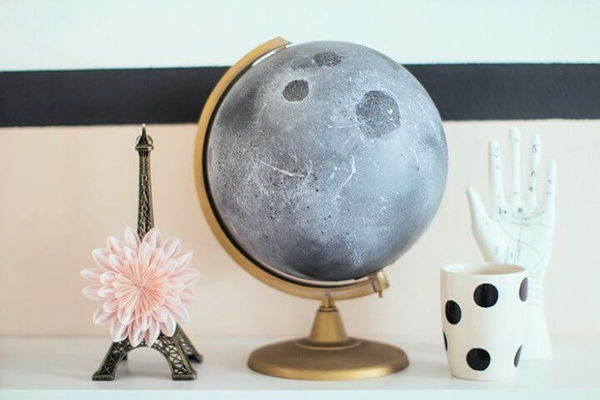 We love putting unique and interesting things on our shelves and enjoy some boost up given to the décor. This DIY cute handmade globe is surely going to charm up your décor display with its simply gorgeous look. The globe has been painted in chalkboard black and the rest of it is painted in gold.
Tutorial: makemylemonade
Tissue Paper Globe Craft For Earth Day Or Solar System: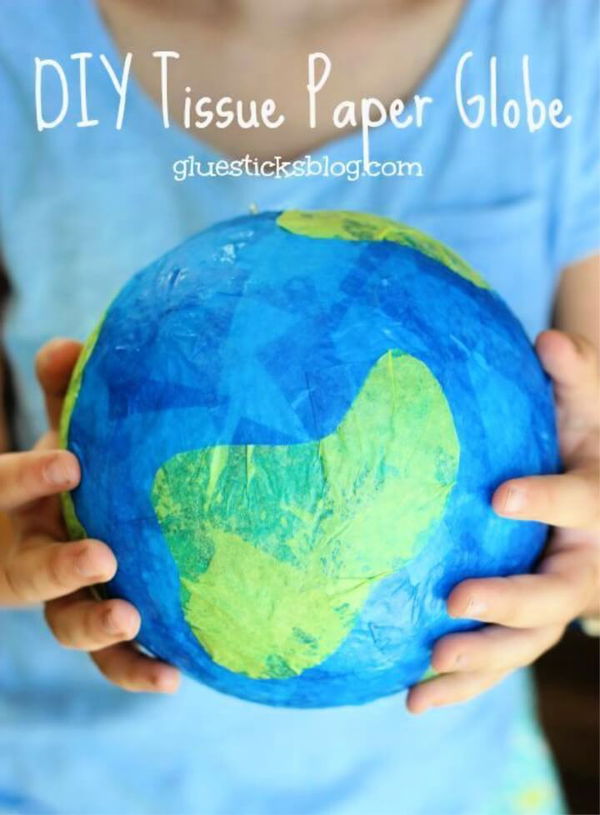 This tissue paper globe craft would be a great idea to work on for Earth day or when the kids have a project related to the solar system. The colors of the earth are majorly blue and green so a styrofoam ball is covered with green and blue tissue papers and that too multiple layers.
Tutorial: gluesticksblog
DIY Globe Guestbook: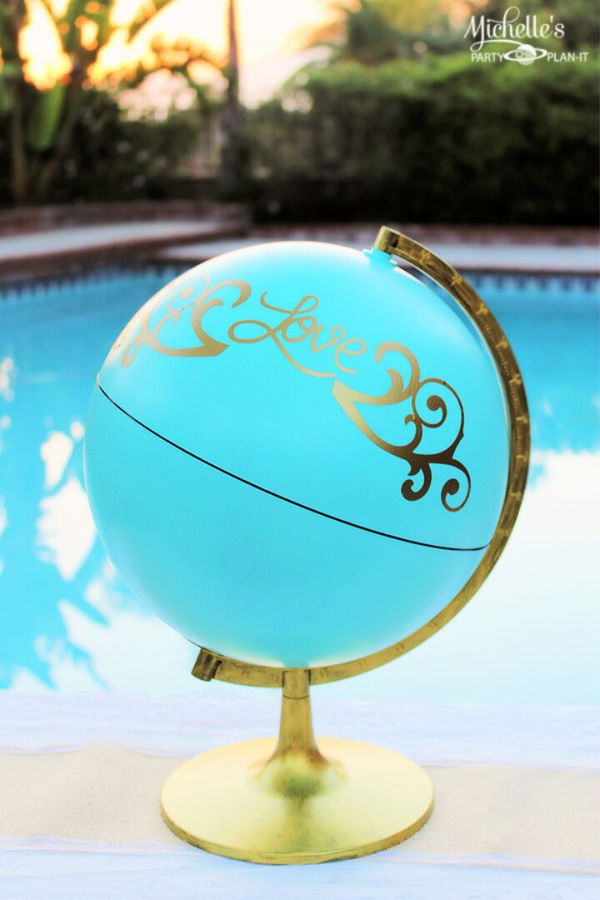 Looking for a unique and interesting guest idea for your wedding? Your problem is solved with this genius craft of DIY globe guestbook. The globe is painted in blue and gold, saying LOVE on the top. The guests would love to write off wishes on this globe guestbook.
Tutorial: michellespartyplanit
Create A Concrete Globe Table Lamp: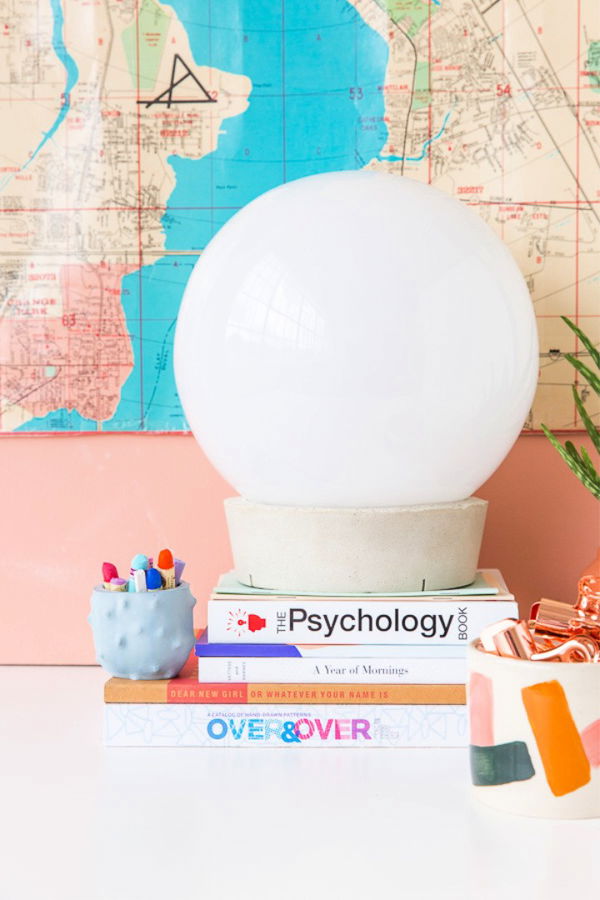 Create this concrete globe table lamp and bring some dazzling appeal to your side tables or the nightstands. The globe is super easy to make and that too with the cheaper supplies. Get all the details of this fun and functional idea right here
Tutorial: papernstitchblog
The Perfect DIY Globe Guest Book: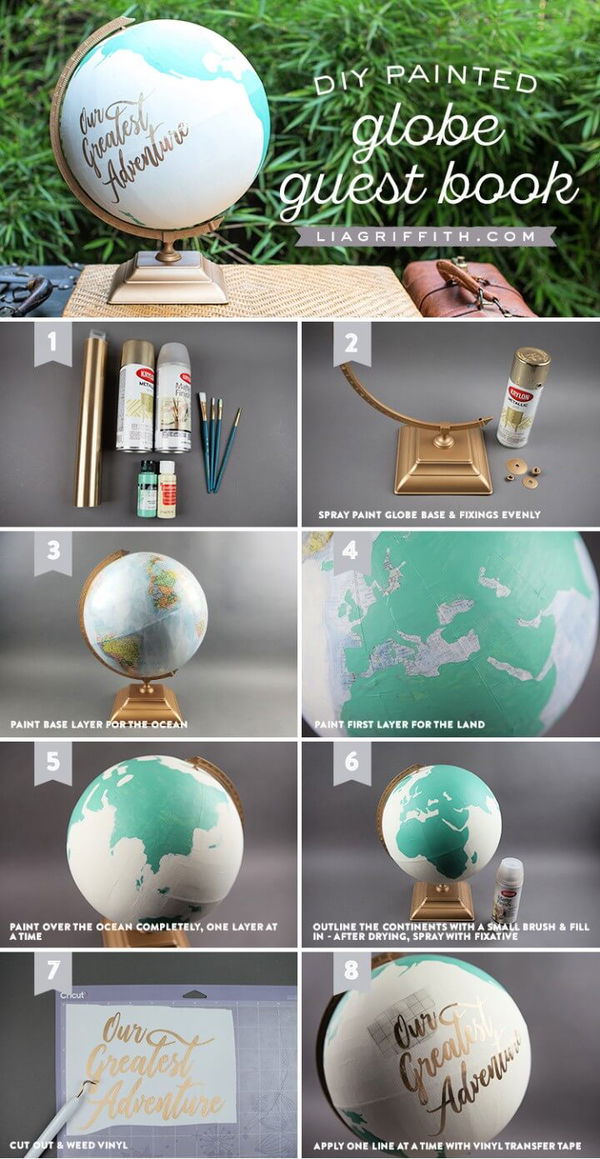 The travel-loving couple can set travel as the theme of their wedding décor and this globe would make a really interesting and gorgeous guest book. Even a friend of the couple can make it with an old globe and some paint to use as the perfect gift idea. How to here
Tutorial: liagriffith
Anthropologie Inspired Globe Makeover With Cricut Explore: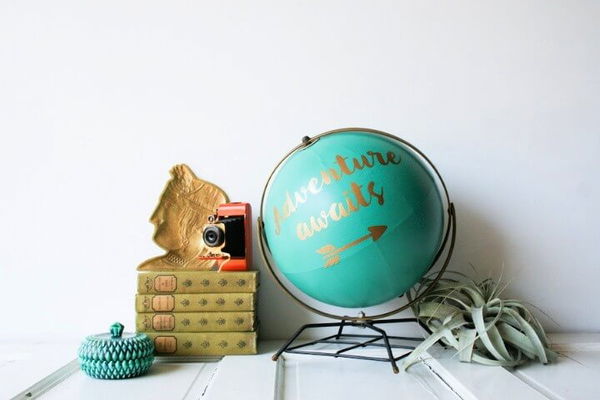 The travel lovers must have this gorgeous and quirky globe at their tables or desks to show their travel craze. The makeover is super easy to do with an old globe being painted and written off with some travel-related quotes. This needs you to use circuit and vinyl for the purpose so get the details here!
Tutorial: saltycanary
Globe Wedding Guest Book: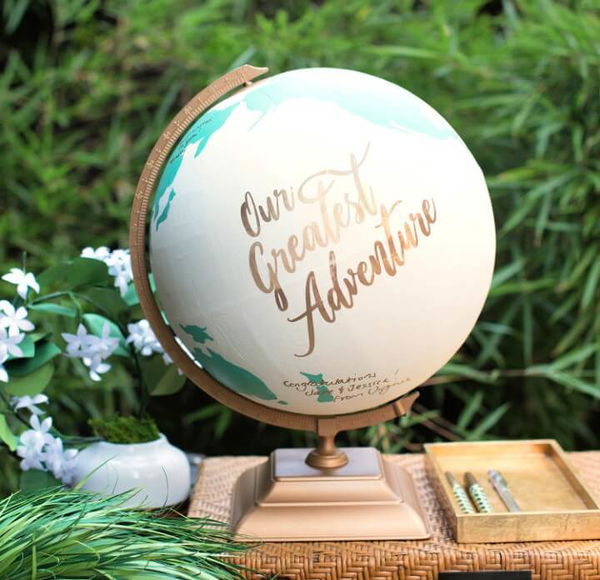 This globe wedding guest book would make an interesting décor and memory after your wedding day. You can warm up your heart anytime by reading the wishes and names of the guests on this globe. This idea needs a circuit set up and some paint to be nicely worked up at home.
Tutorial: liagriffith
DIY Polygonal Globe: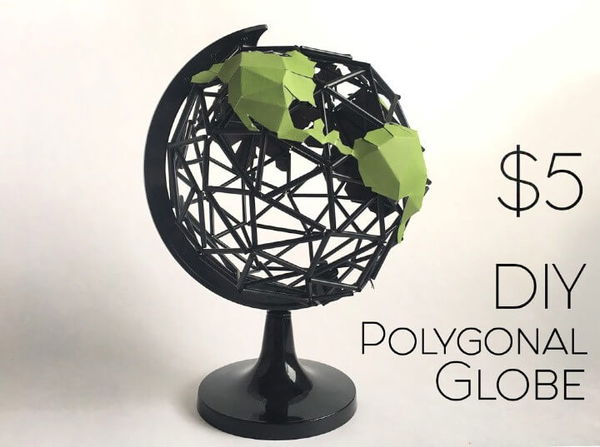 This DIY polygonal globe looks a modern version of the globes and thus would perfectly fit your chic home décor. You just take a simple globe and replace it with a handmade polygonal round structure with cardstock cut continents being glued on the top. Tutorial here
Tutorial: instructables
Globe Flower Vase Tutorial: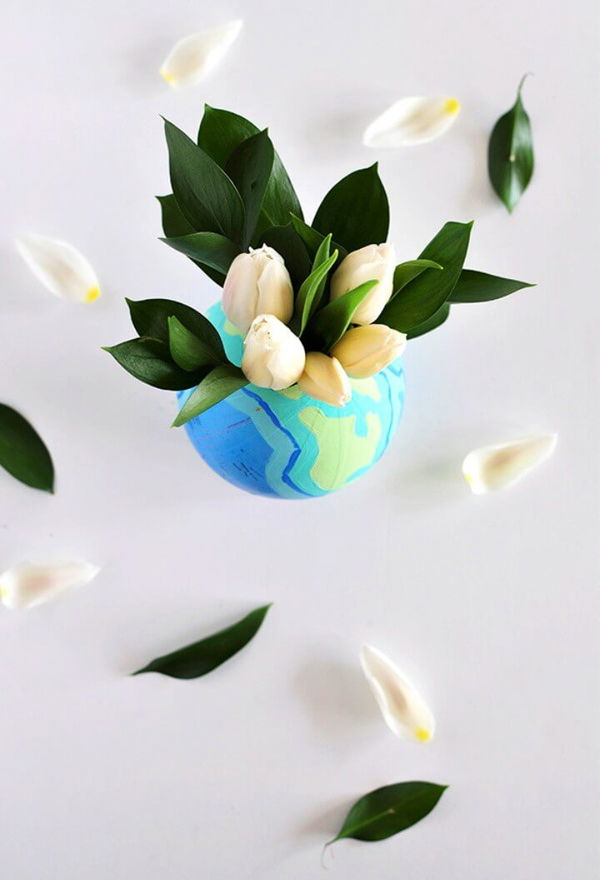 The vases are major decorative items in a house and thus they ought to be interesting and cool. Here is this pretty globe flower vase that is super quirky and cute to hold your flowers in. Make this vase out of an old globe and some new paint hues to cherish its look more.
Tutorial: placeofmytaste
World Globe Final Product: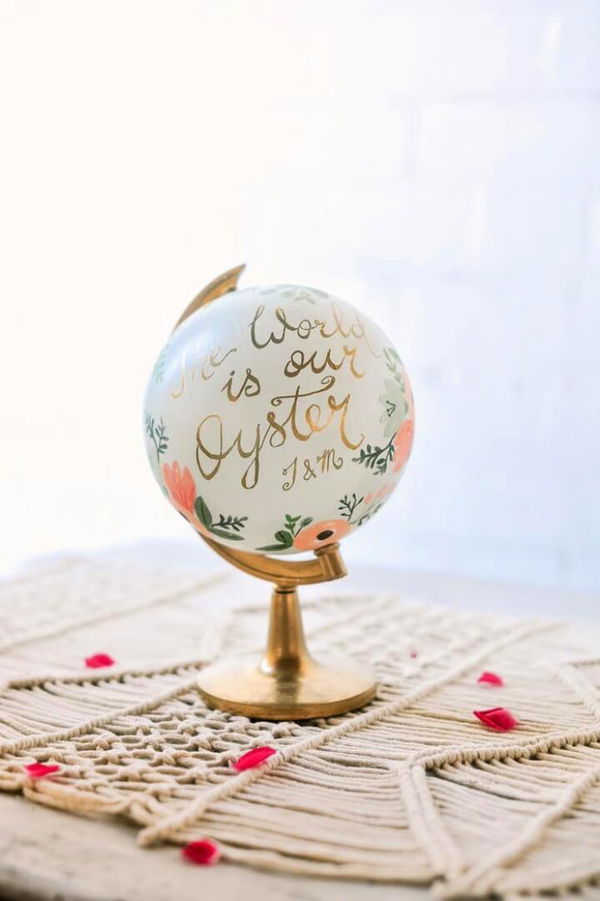 If you are looking for a cool and interesting gift idea for anyone around then get your hands on this project of world globe final product. The globe is nicely painted and written off with an inspiring quote which says The World is Your Oyster. Learn to easily create it at home here
Tutorial: modernwedding
Foam Ball DIY Globe Tutorial: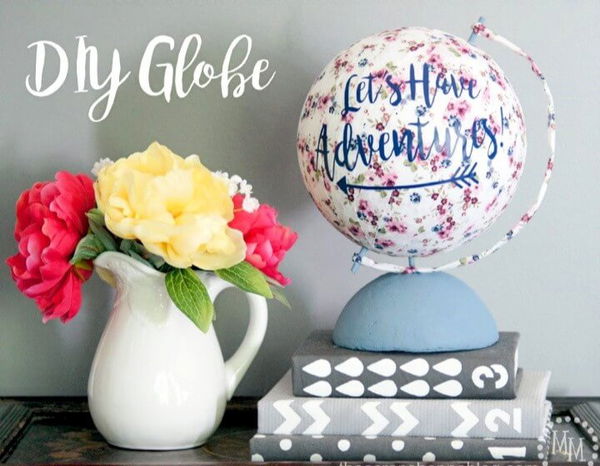 This gorgeous foam ball DIY globe would highly complement the display of your books and vases on any shelf or the table. The icing on the cake is that the globe craft is so damn easy to do with an old globe, some floral printed fabric, and the vinyl to write off some travel quotes on the top. Details here
Tutorial: thescrapshoppeblog
Geek Home Decor – Star Wars Death Star Globe DIY
If you have star war geek in the house then this star war death globe would make the best gift for him. Adore it on the bookshelves or the side tables for being so cool and catchy in looks. The death star globe is easy and cheap to make at home with paint and old globe.
Tutorial: ournerdhome
Painted Globe Furniture Transfers Tutorial: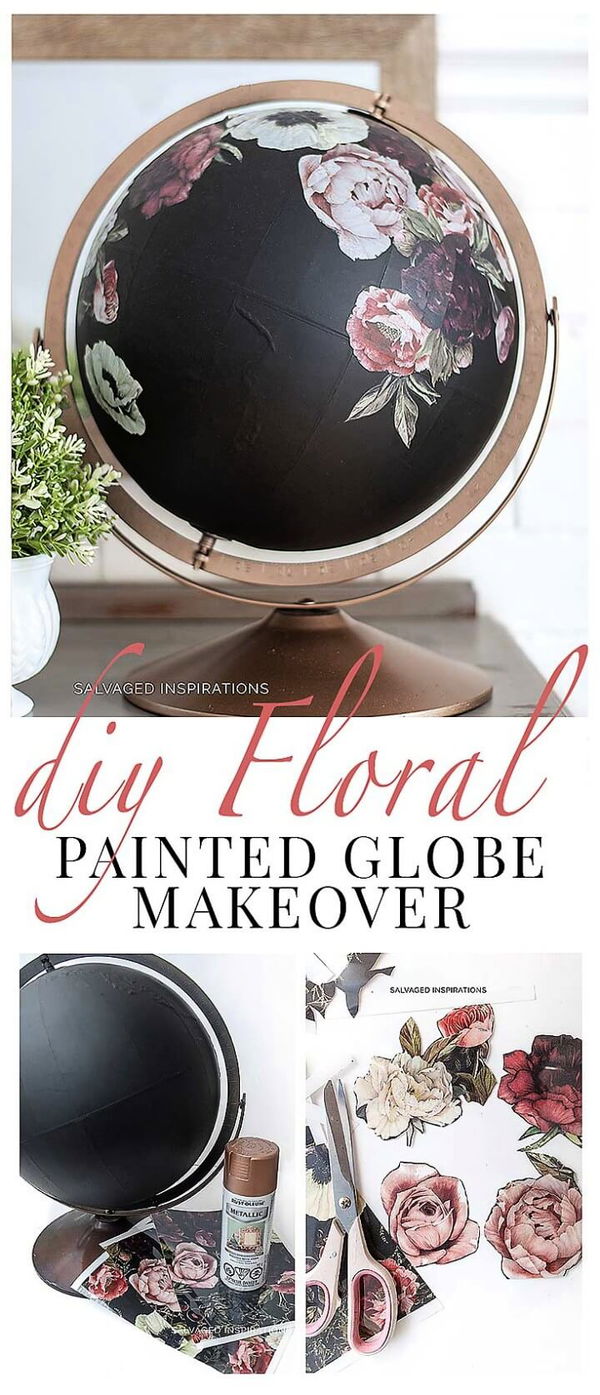 If you are a flower lover than making this painted globe furniture transfer is a lovely idea to work on. The globe is firstly painted in white and then adorned with cute printed roses in pink. It turns out to be super cute and fun to stand on your shelves and tables proudly.
Tutorial: salvagedinspirations
Amazing Globe Flower Vase: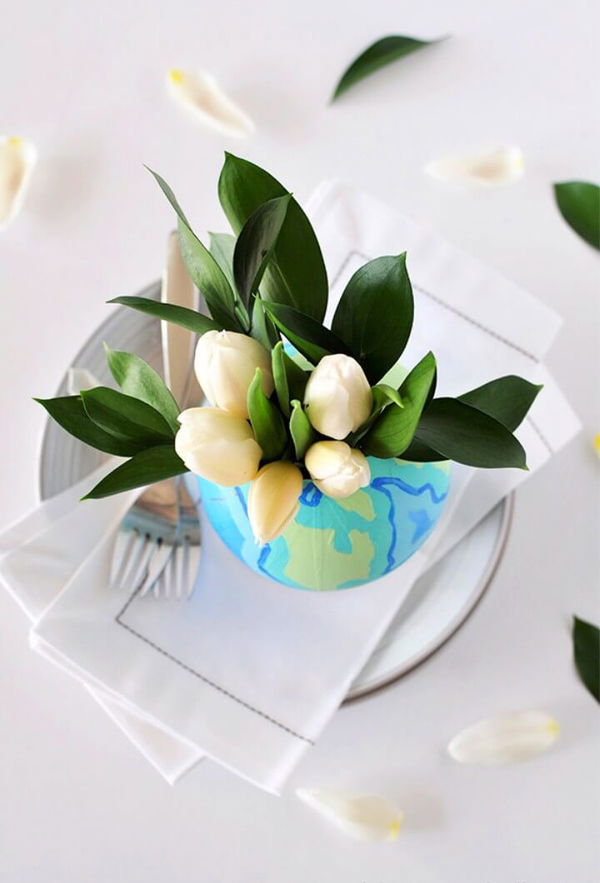 Are you setting up your dinner tables for any bid day coming? This amazing globe flower vase would surely bring impressive beauty and appeal to your dining tables. Turn the old globe into a vase with cutting on the top and some refreshing paint coats. Details here
Tutorial: placeofmytaste
Sandpaper Globe: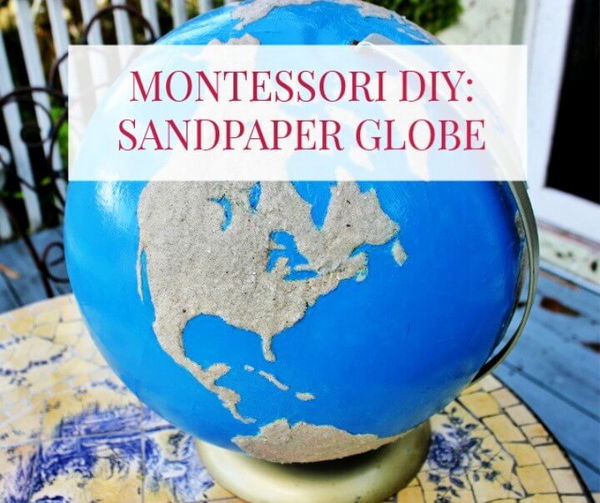 The globes are like the permanent part of the home décor, especially of the bookshelves. So here is a globe that is somewhat new and lovely to be a part of your modern home décor. You can quirk up the globe with some paper and the sand. The kids would love to do this project on their own.
Tutorial: mamaguru
Globe Guest Book: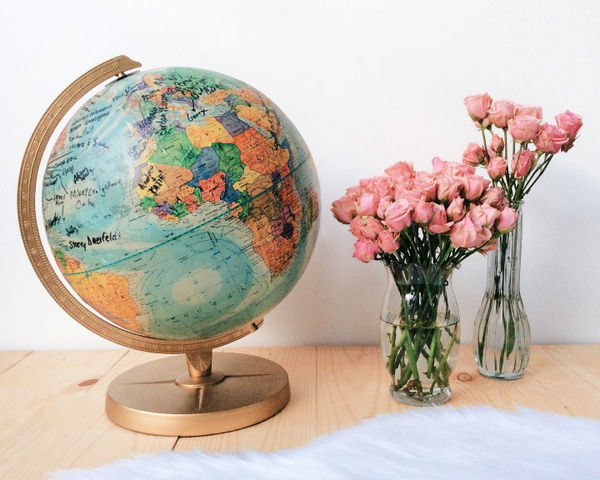 Make a quick and easy guest book for your wedding with the genius and smart idea of this globe guest book. Yes, a globe here has been turned into the guest book with some paint on its base and stand. The guests can write their names and wishes on the globe spaces that they belong to or want to visit.
Tutorial: vivianandviolet
Globe Made From Styrofoam: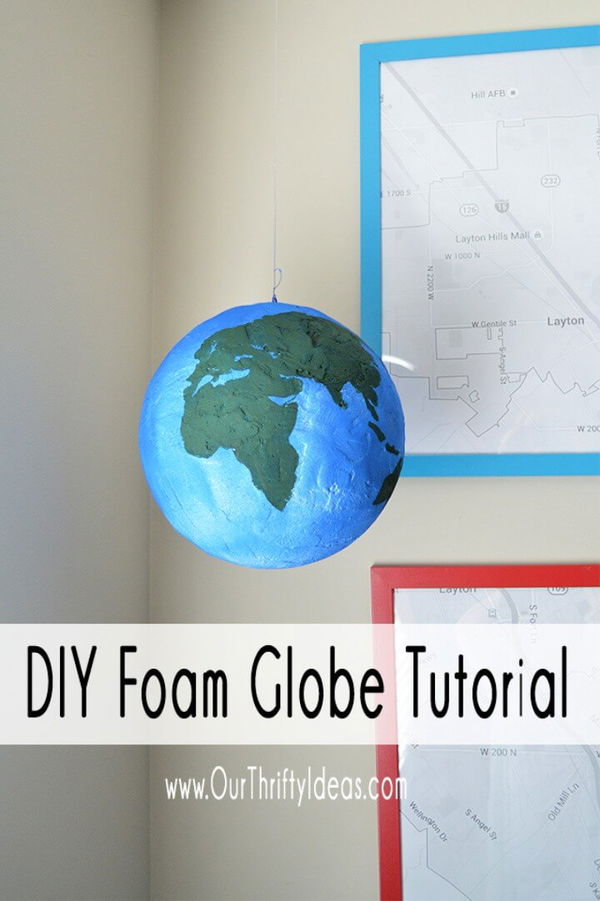 The kids learn more through the visual examples and this globe from Styrofoam would let them learn more about their planet. You can do it as a fun Earth day project or the kids can make it and bring to school while learning about the solar system and planets. Complete details here
Tutorial: ourthriftyideas
Globe Flower Vase Steps By Step:
If you ever see an old globe at a thrift store you should but it as you can do so much out of it. The sample is this lovely globe flower vase to look so unique and interesting standing on your shelves and mantles. Learn to make it with step by step details
Tutorial: delineateyourdwelling
Fabric Stiffener Globe: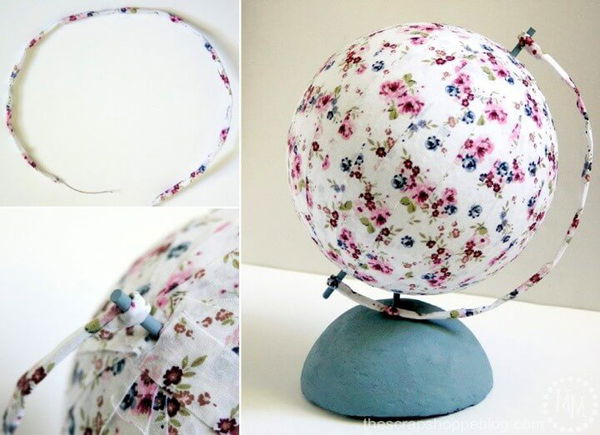 Get your hands on this fabric stiffener globe to get an adorable globe makeover. The basic items that you need for this project are an old globe and some printed cute fabric. You can make the base with clay so thus this handmade globe is a perfect weekend project.
Tutorial: thescrapshoppeblog
Floral Painted Globe Tutorial: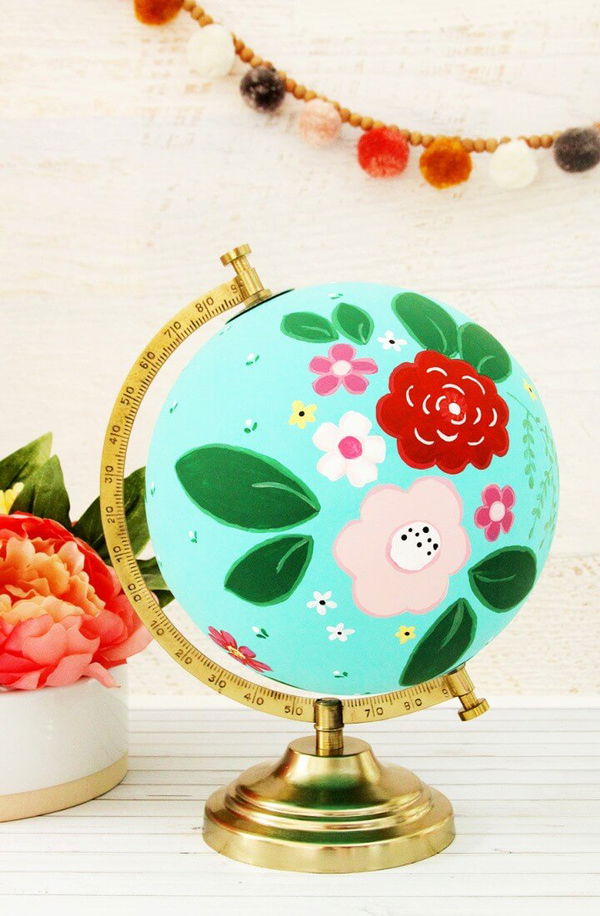 Turn your old globe into an exciting and gorgeous piece of beauty with this idea of the floral painted glob. Paint the globe with some lovely flowers and that too with bright colors to look just so fantastic and vibrant. Tutorial details here
Tutorial: flamingotoes
Gold & Chalkboard Globe: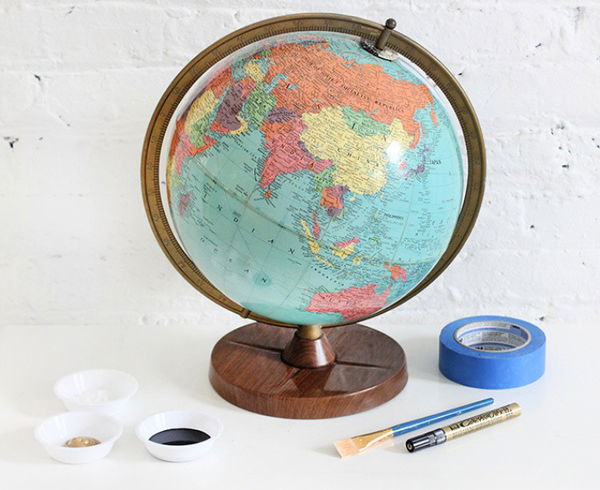 Tutorial: ispydiy
DIY Anthro-Inspired Chalkboard Globe: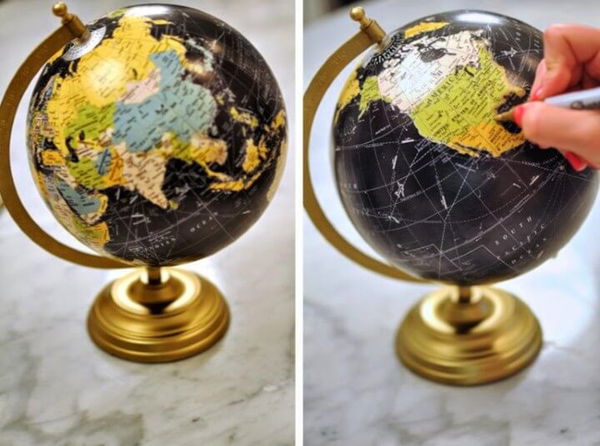 Go quirky with your globe this weekend and create this DIY anthro inspired chalkboard globe to flaunt in your home décor. The good thing is you need simpler and cheap items like chalkboard paint, metallic gold and the sharpie markers for the purpose. Details here
Tutorial: angelinaphotographyblog